TV Bits: Dwight Schrute-Centered 'Office' Spinoff In The Works, Plus: 'Indie Game', Paul Feig, Alan Ball, Rebel Wilson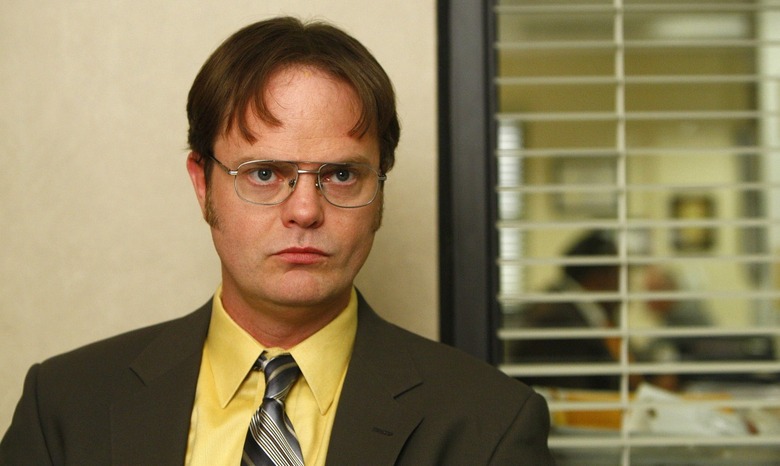 With the exception of True Blood creator Alan Ball's very serious-sounding Banshee, today's TV Bits is all about the funny. After the jump:
Dwight Schrute could leave Dunder Mifflin for Schrute Farms
Paul Feig will direct Goldie Hawn in HBO's The Viagra Diaries
CBS orders a pilot written by and starring Bridesmaids' Rebel Wilson
Alan Ball sells an Amish country-set action drama to Cinemax
HBO decides to turn Indie Game: The Movie into a half-hour comedy
If the new series makes it to the small screen, and if (as expected) The Office is renewed for a ninth season, Wilson will return for several episodes this fall before transitioning to the new show in midseason. According to a source who spoke with Deadline, at its heart the new show will be "about a family farm struggling to survive and a family trying to stay together."
The Schrute-centric comedy will be the second time NBC's tried to branch out with The Office; Parks & Recreation was originaly conceived of as an Office spinoff before it evolved into a totally unrelated show created by Office vets Greg Daniels and Michael Schur. Wilson and Office showrunner Paul Lieberstein (who also plays HR director Toby) will executive produce the new series, alongside Office exec producers Ben Silverman and Howard Klein. [Deadline]
Speaking of people who've worked on The Office: Paul Feig has come aboard to direct and executive produce the pilot episode of The Viagra Diaries, from Sex and the City creator Darren Star. Based on the book by Barbara Rose Brooker, the series stars Goldie Hawn as a 60something woman dealing with the single life for the first time in 35 years after her husband leaves her.
Feig's extensive television experience includes creating NBC's short-lived but critically adored Freaks & Geeks, and helming episodes of Arrested Development, Bored to Death, Nurse Jackie and the aforementioned The Office. His success with last year's Bridesmaids has made him a sought-after feature director as well, and he recently signed on to direct The Better Woman by Gilmore Girls creator Amy Sherman-Palladino. [Variety]
And speaking of people who've worked on Bridesmaids: Rebel Wilson could soon be joining Bridesmaids co-star Melissa McCarthy on CBS. The network has ordered a pilot for a half-hour multi-camera comedy called Super Fun Night, which Wilson wrote and will star in. Conan O'Brien is also on board as an executive producer. The series centers around three nerdy gal pals on a "'funcomfortable' quest to have super fun every Friday night."
Sounds pretty great so far, though I'll be curious to see who gets cast as Wilson's buddies. And as portmanteaus go, "funcomfortable" definitely beats out the grating and unnecessary "adorkable." [TV Line via Badass Digest]
True Blood and Six Feet Under creator Alan Ball has had great luck with HBO, but for his next endeavor he'll be teaming up with HBO's somewhat less reputable sister network Cinemax. As part of its move toward more original programming, Cinemax has given a ten-episode order to Ball's Banshee, an action drama described as "Walking Tall meets History of Violence." Set in Pennsylvania's Amish country, the series centers around an ex-con who poses as the sheriff of a small town called Banshee in an effort to hide from the gangsters he's crossed.
Emmy winner Greg Yaitanes (House) is set to direct the first episode, and will also serve as an exec producer along with Ball, writers Jonathan Tropper and David Schickler, and Peter Macdissi. Ball is expected to divide his time between the new show and True Blood. Banshee aims to begin shooting this spring in North Carolina for a 2013 premiere. [Reuters, Deadline]
One of this year's most intriguing Sundance projects could soon be coming to a screen near you, after a fashion. HBO and Scott Rudin have picked up the remake rights the feature doc Indie Game: The Movie, with the intention of adapting it into a (fictional) half-hour comedy series.
Directed by James Swirsky and Lisanne Pajot and funded, in a large part, through Kickstarter, the original Indie Game follows the ups and downs of independent game developers preparing to release new titles. I thought the trailer for the film looked more bittersweet than funny, but I'd be interested to see a show set in such a unique world.
Indie Game is one of several projects Rudin currently has set up at HBO. The others include Ben Stiller and Jonathan Safran Foer's All Talk, Aaron Sorkin's Newsroom, and the Noah Baumbach-directed Jonathan Franzen adaptation The Corrections. [THR]