Steven Spielberg Near A Deal To Shoot "Gritty" Moses Biopic 'Gods And Kings' In 2013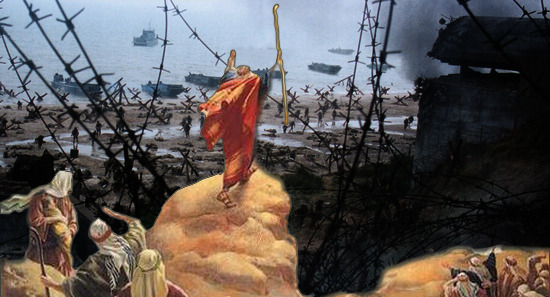 Steven Spielberg and Warner Bros. have been doing a slow dance towards one another over the last couple months.
The film potentially bringing the two parties together has been the Moses biopic Gods and Kings, which may turn out ot be a lot more like Saving Private Ryan than we would have previously expected. And while there isn't a signed deal in place at this point, things are continuing to move forward. Right now, it looks like the next week could see the completion of a deal that will put Spielberg in the director's chair for the film by April or May 2013, after he's done with Robopocalypse.
Gods and Kings would follow Moses from his adoption in infancy to the acquisition of the Ten Commandments. It is written by Stuart Hazeldine (Paradise Lost) and Michael Green, a writer on Green Lantern and TV show The River.
Reporting on the project, Deadline emphasizes that Gods and Kings is not being developed as a 3D film. That shouldn't surprise anyone who has been paying attention to Spielberg's recent comments about film and 3D. He has said he'll continue to shoot live-action on film until the last lab is closed, and unless he wanted to post-convert a project, that precludes using 3D. (Shooting native 3D requires the use of digital cameras.)
Here's the part where I start to get anxious. Deadline describes Gods and Kings as a film that would have the "gritty reality" of Saving Private Ryan. The site refers to Moses as "the warrior to beat all warriors," and quotes one anonymous source saying this would be "a movie like a Braveheart-ish version of the Moses story," and another saying "There have been glossy versions of the Moses story but this would be a real warrior story."
I'm trying to take that language in and let it roll off as typical Hollywood-speak, in which it is usually much easier to talk about a new project in terms defined by previous successes. But the idea of a Moses movie in a post-Braveheart/Saving Private Ryan style also sounds like the "grim n gritty" mid-'80s comic reboot style, defined and exemplified by The Dark Knight Returns, taken to an absurd extreme.
This is the moment where a general trust in a major filmmaker kicks in, especially with respect to one of the most significant characters in Abrahamic religion. I'm just a bit wary (and weary) of the 'gritty' take on classic stories. But a violent, modern, post-Braveheart version of Moses' life story would almost certainly do crazy great business for WB, so that's probably what we're going to get. (And it might be great; hard to say with so little info to go on.)