'Seeking Justice' Trailer - And That's Why You Never Get Involved With Shadowy Vigilante Organizations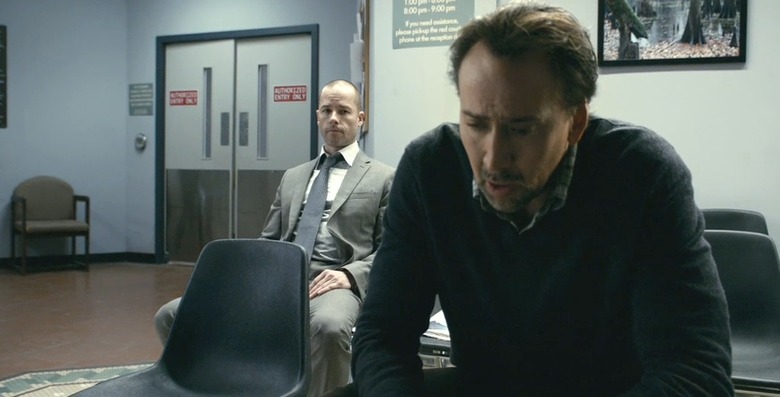 Another month, another Nicolas Cage thriller. This time around, the film is Roger Donaldson's Seeking Justice (formerly titled The Hungry Rabbit Jumps and then just Justice), and Cage plays a man so filled with rage over a recent attack on his wife (January Jones) that he takes a stranger (Guy Pearce) up on his offer to "take care of" the attacker. Cage's character is then shocked, just shocked, to find out that vigilante justice isn't exactly sweet and simple. Watch the trailer after the jump.
Seriously, I'm having a hard time mustering up too much sympathy for Cage's character here. Exactly what did he expect would happen once owed favors to a shadowy, brutal vigilante team? Movie logic at work, I suppose.
The trailer isn't terribly different from the UK version that was released back in September, but with the movie due to hit U.S. theaters on March 16, it's worth revisiting as you try to figure out which of the spring schedule will be worth seeing. Based on this video I'd say Seeking Justice looks like a pretty standard thriller, right down to pretty standard turns from Cage and Jones. The one possible highlight seems to be Pearce's performance — even in these two minutes, it's apparent that Pearce brings a dark magnetism to the twisted character he's playing.
Head over to Apple to see the trailer in HD.
Synopsis:
A happily married family man's quiet life is turned upside-down when his wife is brutally attacked one night while leaving work. The husband unwittingly pulls himself into a dangerous underground vigilante operation after agreeing to an intriguing offer for a stranger to exact vengeance on his wife's attacker. While continuing to protect his wife from the truth, he quickly discovers that his quest for justice could lead to frightening and deadly consequences.