Watch The Short 'Glory At Sea,' From 'Beasts Of The Southern Wild' Director Benh Zeitlin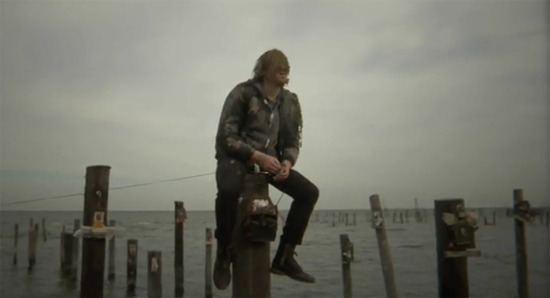 As I've started to read about the Sundance film Beasts of the Southern Wild (check our review here), what keeps coming to mind is something like the early films of David Gordon Green filtered through the sensibility of author China Mieville. The film shows us the world through the eyes of a six-year old girl, but that world isn't quite 'real.' It is the creation of director Benh Zeitlin. His landscape is based in part on a post-Katrina Louisiana landscape, but it also has many other elements, some realistic and some fantastic, woven into its fabric.
But rather than looking to some esoteric and possibly way off-base comparison to get an idea of what Beasts of the Southern Wild might be like, let's look back to the 2008 short film from the same director. Glory at Sea is also by Zeitlin, and like his new feature the short is also set in a landscape that is at least influenced by the aftereffects of Hurricane Katrina. But this is no When the Levees Broke; rather it is a film that uses images that suggest a devastated Louisiana as part of a story about following faith and vision even in the aftermath of apocalypse.
Zeitlin breaks many rules of shooting low-budget indie films: he shoots with kids, and on the water, and with a couple of wild, homemade sets. Well, 'sets' is a loosely applicable term, but you'll see what I mean. Glory at Sea is a pretty fantastic 25-minute short, and I highly recommend giving it a look.
REMOVED
There's not a narrative at work here so much as a feeling and a general sense of energy and motion. But Zeitlin demonstrates a great skill with world-building, and this film suggests he could eventually be in the same company as Jeunet, Greenaway, Gilliam, Kusturica and other filmmakers wh0 are able to turn mundane objects and locations into odd and fantastic worlds that are just a couple steps away from our own.
Zeitlin also co-wrote the music, with Dan Romer, and the score is just as promising as the filmmaking. It calls to mind Michael Nyman's scores for Greenaway, as well as songs by Godspeed You! Black Emperor and Arcade Fire. But the music fits and feels quite natural — like the visual echoes to other films, the musical work here feels like Zeitlin and Romer are in the company of those established acts rather than simply riffing on them.
So how does this short relate to Beasts of the Southern Wild? For one view, let's go to the review from Eric Kohn at Indiewire, which directly compares the two movies:
Benh Zeitlin's 2006 short film, "Glory at Sea," rendered post-Katrina grief with an overwhelming sense of magic realism that quickly turned the project into a sleeper hit on the festival circuit. "Beasts of the Southern Wild," Zeitlin's feature-length debut, contains much of the same thing, repeated ad infinitum for roughly 90 minutes: Zeitlin offers up a majestic encapsulation of a child's worldview. Supremely ambitious and committed to profundity, "Beasts" sets the bar too high and suffers from a muddled assortment of expressionistic concepts, but it still manages to glide along its epic aspirations.
(Should you want to see Glory at Sea on DVD, it is available on the seventh volume of Wholphin, aka the McSweeney's short film collection.)