Steven Soderbergh's 'Side Effects' Gains Catherine Zeta-Jones, Loses Financier Megan Ellison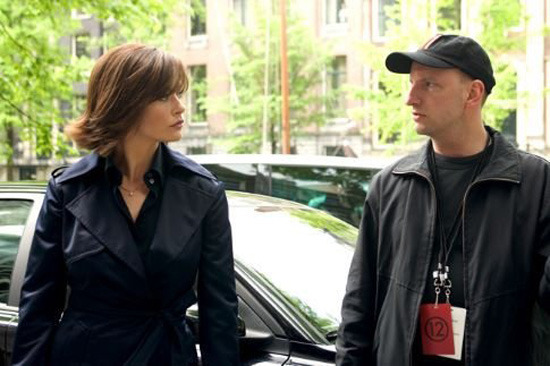 There are some changes going on with Steven Soderbergh's planned film Side Effects. The past couple months have seen reports of Soderbergh ditching The Man From UNCLE and taking up the Side Effects script by UNCLE and Contagion screenwriter Scott Z. Burns. In the past couple weeks there have been reports that Megan Ellison's Annapurna Productions would finance Side Effects, with Open Road (The Grey) set to distribute after Summit decided not to pick up the film.
But Ellison has walked away from the film, for reasons that aren't entirely clear. (Theorize if you like about the middling performance of last weekend's Haywire opening being a factor.) With the departure of Ellison, some of the previously attached cast is in doubt. But there is one new addition: Soderbergh' vet Catherine Zeta-Jones (Ocean's Twelve, Traffic).
Variety reports that while Ellison and Annapurna have moved away from the project, Open Road reps say the deal to distribute the film is "in place." So that's good. Variety also says that the participation of Channing Tatum, Blake Lively and Jude Law — all three announced not long ago — is currently "unclear."Deadline, meanwhile, says that Law, Lively and Tatum are all still involved, and also announces the addition of Catherine Zeta-Jones. That article says the plan is still to shoot the movie starting in April. (The film is meant to be Soderbergh's next-to-last, with the finale being the Liberace movie Behind the Candelabra, shooting later this summer.)Deadline also outlines where Zeta-Jones fits in:
Zeta-Jones will play Dr. Erica Siebert. Lively plays a troubled and depressed woman who is taking serious amounts of prescription drugs, which leads her into a relationship with another doctor (Law). Her intake is ostensibly designed to help her deal with the anxiety surrounding the pending release of her husband (Tatum) from prison.
Just to make things a little more complicated, The Playlist has its own source, and says that Megan Ellison's departure was thanks to Soderbergh's desire to cast Blake Lively. (Hopefully it wasn't just Green Lantern that led to reservations there, because that's not a very fair representation of most of the talent involved.) The site says that while she's still involved, similar resistance from another financier could lead to re-casting that role, with Rooney Mara,  Michelle Williams, Emily Blunt and Imogen Poots all being viewed as possible alternate options.