'For A Good Time Call...' Is An Unexpectedly Touching Female Phone Sex Raunch-Com [Sundance 2012]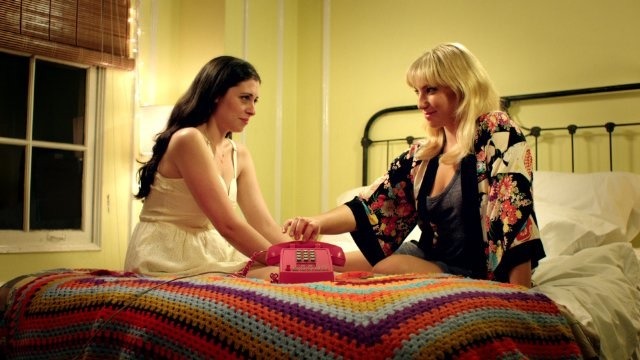 For A Good Time Call... is one of the big buzz films of the 2012 Sundance Film Festival. Today Focus Features acquired worldwide rights to the comedy for a reported $2+ million. The film tells the story of two women who start a phone sex line.
Two young women, short on the funds needed to live in New York City, agree to room together. But they're an at-odds couple; Lauren (played by Lauren Anne Miller) is reserved, while Katie (Ari Graynor of The Sitter) is irrepressible. These roommates have nothing in common – until Lauren discovers that Katie is working as a phone-sex operator, and recognizes a good business opportunity. As the money begins to roll in, the two realize the value of not just their booming partnership but their growing friendship.
The film is co-written and co-produced by Lauren Anne Miller, who also stars. (In real life, she is married to Seth Rogen.) The screenplay, co-written by Katie Anne Naylon, is filthy and hilarious. It features well-written, likable female characters that will make you both laugh and care, something that can't be said of the other Sundance woman-driven comedy Bachelorette. Call is a celebration of friendship and raunchiness. The movie's climax is laugh-'til-you-snort funny, but also full of heart and unexpectedly touching.
Justin Long has a great show-stealing supporting performance that everyone is talking about. (I say that not as a fan of Long's previous film roles.) As a bonus, the movie features a round of great cameos; avoid looking at IMDB or you will be spoiled. Toronto-based filmmaker Jamie Travis has traveled the film festival circuit with his short films for the last six years. Call is his feature debut, and instantly puts him on the list of comedy filmmakers to watch in the coming years./Film Rating: 7.5 out of 10