'Red Hook Summer' - Spike Lee Returns To Brooklyn With Mixed Results [Sundance 2012]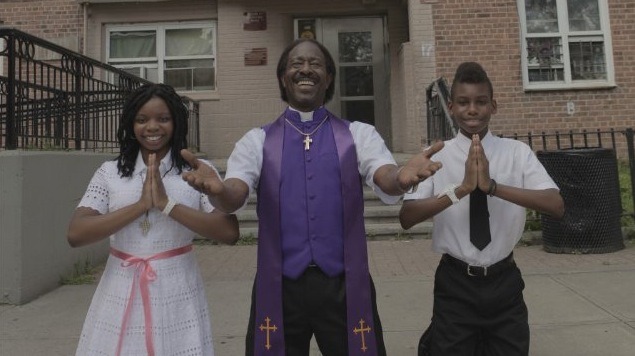 There's a good movie somewhere in the middle of the 130 minutes comprising Spike Lee's Red Hook Summer. A focused movie. A movie that has a lot to say about the conflict between younger and older generations, faith versus religion, young love and even technology. That movie is in there. Unfortunately, Red Hook Summer as it currently stands at the 2012 Sundance Film Festival is a bulky, dense and meandering film. It is at times thought-provoking and at others just plain confusing.
Red Hook Summer refers to the few months a young 13-year-old boy nicknamed Flik (newcomer Jules Brown) spends with his grandfather, Bishop Enoch (The Wire's Clarke Peters), in the Red Hook section of Brooklyn, NY. Flik has never met his grandfather and, coming from a privileged Southern upbringing, knows nothing of Enoch's highly religious ways. The two butt heads over it but eventually begin to come to an understanding and develop a stronger bond. So good so far.
But Flik always carries an iPad to film things. We watch not one, not two, but three full sermons delivered by the Bishop. Flik hangs out with a girl named Chazz (another newcomer, Toni Lysaith) who has asthma and loves wet cement. She also loves New York Knicks basketball star Carmelo Anthony, and we hear his live introduction from Madison Square Garden. Oh, right, and Lee himself returns as Mookie from Do The Right Thing, still delivering pizzas and still doling out words of wisdom over twenty years later.
See my point? Red Hook Summer is all over the place. If you trim some of the fat away, Lee has some very poignant points to make about how the young and old influence each other, how having God in one's life isn't complete without some reality and more. But they get lost in the shuffle.
It's pretty obvious Red Hook Summer was a labor of love for Lee. The film bursts at the seams with passion. However, that passion seems to have blinded the auteur from making a coherent film.
/Film rating: 4 out of 10