'The Sessions' Review – 2013 Oscar Contender With John Hawkes, Helen Hunt & William H. Macy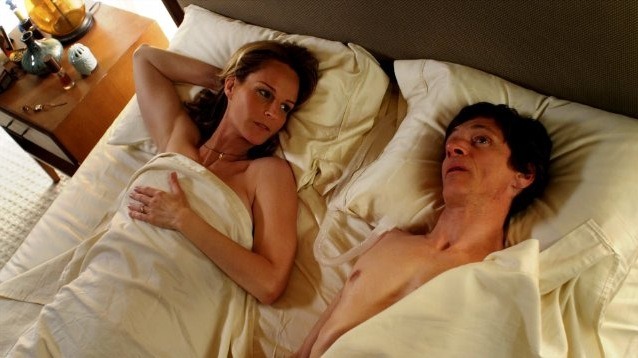 Note: This is a reprint of my review of The Sessions, formerly The Surrogate, upon its premiere at the 2012 Sundance Film Festival. I've changed the name of the film below, but left everything else remains intact. It opens on a limited basis today and is truly one of the year's most special films.
With 2011 being a rare exception, a Sundance award winner is almost always in the thick of awards season. And while the 2012 Sundance Film Festival has yet to bestow its awards, let alone premiere all the films, I feel confident in saying Ben Lewin's The Sessions will likely be in the mix for awards here and possibly next year at the Oscars.
The Sessions is the true story of Mark O'Brien (John Hawkes), a California-based journalist relegated to a gurney and iron lung because of disabling polio. At the age of 38, he's still a virgin and, with the blessing of his priest (William H. Macy), Mark hires a sex surrogate (Helen Hunt) to remedy the problem.
While the story sounds kind of creepy, pathetic and depressing, The Sessions is exactly the opposite. It's hilarious, brave and frank about both disabilities and sexuality. It's a special film which had its world premiere this week in Park City, leading to what looks like a $6m deal for Fox Searchlight to distribute the film. Read more after the jump.
If you've connected the dots, you'll realize that Hawkes is completely paralyzed throughout The Sessions. His character, Mark, graduated UC Berkeley despite not being able to move anything but his head. Other "things" work, however, and eventually he decides to do whatever he can to sleep with a woman. After a few failed attempts, the opportunity to do just that presents itself in the form of an assignment for an article on sexuality and disability. Through his research he meets Cheryl Cohen Greene, (Hunt) whose job is to help disabled men discover their sexual selves.
Again, I'm sure that sounds like things veer off into the weird but Ben Lewin's screenplay and direction never let that happen. He and the actors handle the touchy subject matter (pun intended) with the utmost maturity, poise and thoughtfulness. Jokes are made when they need to be (which is pretty often) but, for the most part, everyone is just being open and honest, both as a character and an actor.
As Mark, Hawkes gives a career-making performance. He turns a man who many might pity into a role model without lifting a finger. Or leg. Or torso. And while Hunt's performance as Cheryl requires her to be nude for a large majority of the film, she's not only beautiful, but incredibly confident with a sublayer of vulnerability. Each even throws on a little Boston accent because their real life counterparts are from that area. (As for Macy, he's great too, but doesn't have as meaty a character.)
You've never seen a movie like The Sessions and odds are you many never again. It's the kind of true life story that probably happens out there in the world, but no one is brave enough to talk about. So, to see it portrayed in such a way with such amazing people is something that's truly breathtaking.
/Film rating: 9 out of 10