'Darling Companion' Trailer - Four Oscar Nominees, Three Oscar Winners, Zero Original Ideas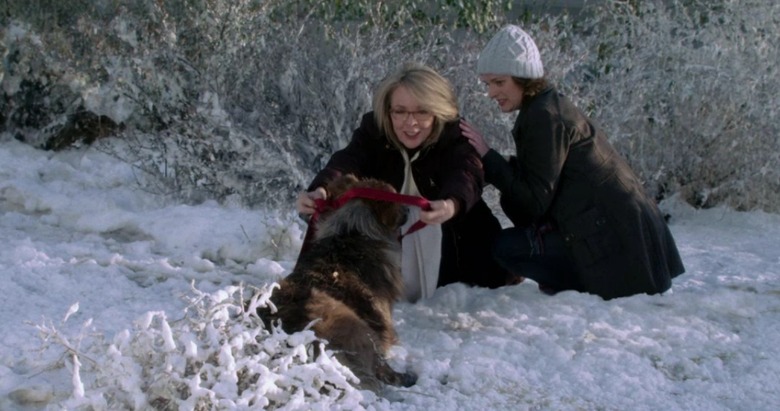 On paper, Lawrence Kasdan's Darling Companion sounds promising. Kasdan, an Oscar-nominated screenwriter and filmmaker, directed the drama from a script he co-wrote with his wife Meg Kasdan, also an Oscar nominee. The star-studded cast, as the trailer is happy to remind you, includes two Academy Award nominees (Richard Jenkins and Sam Shepard) and three Academy Award winners (Diane Keaton, Dianne Wiest, and Kevin Kline), as well as promising younger actors like Elisabeth Moss and Mark Duplass. But at the end of the day, no number of collective accolades can guarantee an interesting picture, and unfortunately, the trailer for Darling Companion looks pretty cringeworthy.
The Kasdans' screenplay revolves around a dissatisfied older woman named Beth (Keaton) who adopts an abandoned dog she finds on the side of the road and finds contentment in her bond with him. But when Beth's self-absorbed husband (Kline) loses the dog, the couple pull together a search party to find him and everyone finds that they're affected by the experience in unexpected ways. Watch the video after the jump.
[via Cinema Blend]
I do like the cast, and for the sake of everyone involved, I hope the actual film proves to be much better than this trailer looks. True, this probably won't be the worst movie in the world, but between the sappy premise, cliched dialogue, and unlikable characters, it's a shame to see so much wasted talent.
Darling Companion opens April 20.
Synopsis:
Beth saves a bedraggled lost dog from the side of the freeway on a wintry day in Denver. Struggling with her distracted, self-involved husband Joseph and an empty nest at home, Beth forms a special bond with the rescued animal. When Joseph loses the dog after a wedding at their vacation home in the Rockies, the distraught Beth enlists the help of the few remaining guests and a mysterious young woman in a frantic search. Each member of the search party is affected by the adventure, which takes them in unexpected directions — comic, harrowing, sometimes deeply emotional and ultimately towards love.