Behind The Scenes 'Man Of Steel' Image Shows Henry Cavill's Friendly Side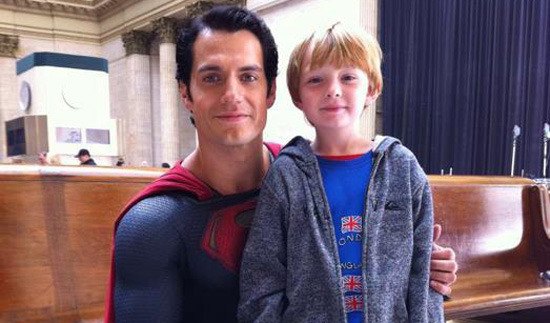 The first real shot of Henry Cavill as Superman in Zack Snyder's new film Man of Steel wasn't quite what fans expected to see, but it did start to give us a look at the suit that Cavill will sport as the new man from Krypton.
We saw some other pics of Cavill in a stripped-down suit, which clued us in to some of the unusual alien accents that decorate the suit. Those images started a minor argument amongst fans who are concerned, to various degrees, about  the fact that one traditional element of Supes' costume, the red 'underpants,' have seemingly been banished.
Now here's one more new image that shows a good old-fashioned friendly Superman. Still no underpants, though.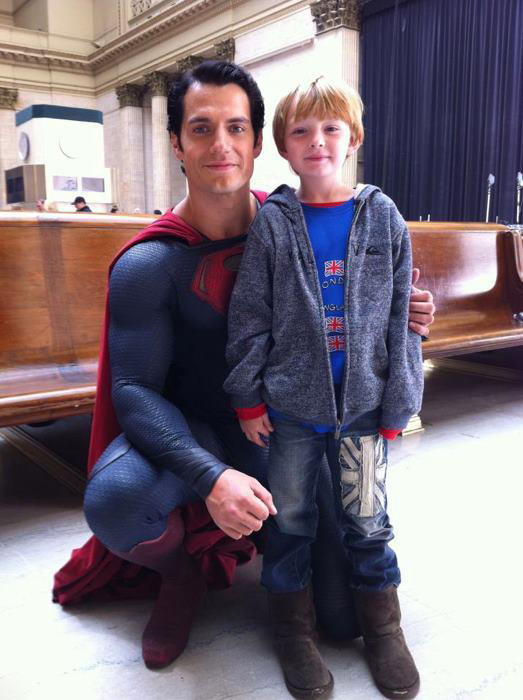 The image comes from the DC Universe fan twitter account, with the caption "Henry Cavill with full Superman suit, together with a little fan on the set of SUPERMAN: MAN OF STEEL."
Man of Steel also stars Amy Adams, Diane Lane, Kevin Costner, Michael Shannon, Antje Traue, Russell Crowe, Julia Ormond, Christopher Meloni, Harry Lennix and Laurence Fishburne. It is scheduled for release on June 14, 2013.
In the pantheon of superheroes, Superman is the most recognized and revered character of all time. Clark Kent/Kal-El (Cavill) is a young twentysomething journalist who feels alienated by powers beyond anyone's imagination. Transported to Earth years ago from Krypton, an advanced alien planet, Clark struggles with the ultimate question – Why am I here? Shaped by the values of his adoptive parents Martha (Lane) and Jonathan Kent (Costner), Clark soon discovers that having super abilities means making very difficult decisions. But when the world needs stability the most, it comes under attack. Will his abilities be used to maintain peace or ultimately used to divide and conquer? Clark must become the hero known as "Superman," not only to shine as the world's last beacon of hope but to protect the ones he loves.
[via io9]