Bret Easton Ellis Writing L.A.-Set Noir For Paul Schrader, Wants Porn Star James Deen For Lead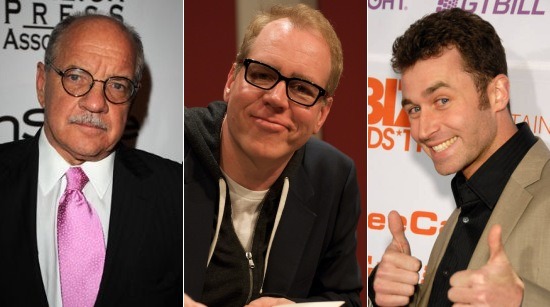 Normally, if a Hollywood screenwriter named a porn star as his top choice to lead a mainstream film, it would come as a bit of a surprise, but when the scribe in question is Bret Easton Ellis, it just makes so much sense. The controversial writer has tweeted that he's currently working on a "L.A. noir microbudget" movie for director Paul Schrader, and that he hopes adult film sensation James Deen will topline the cast. More details after the jump.
It's unclear how certain Deen's involvement is at this point, but the porn actor is definitely aware of Ellis' interest at the very least. Deen retweeted Ellis' messages about him, responding "Party" to one of them. 25-year-old Deen is one of the most popular male performers working in the skin flick industry at the moment, and one of the rare stars with a sizable and devoted female fanbase; click here (via Vulture) for a SFW profile of Deen's career and his unique appeal. As far as I can tell, Ellis' movie would be Deen's first non-porn role — could Deen be thinking of following in Sasha Grey's footsteps and gunning for mainstream success?
The noir is slated to be Ellis and Schrader's second collaboration. Last year, Schrader boarded Ellis' Bait, about a young man who takes revenge on the wealthy by throwing them into shark-infested waters. Ellis' other upcoming film project is Downers Grove, a high school-set thriller. In addition to his screenplays, Ellis has also written several novels which have been turned into movies, including The Rules of Attraction and American Psycho.