'The First Time' Is 'Can't Hardly Wait' Meets John Hughes [Sundance 2012]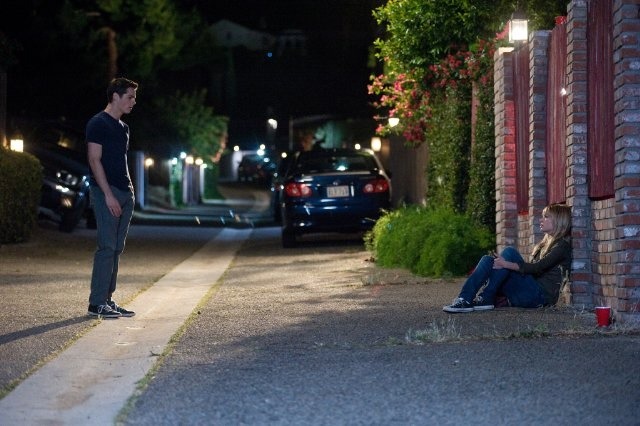 The First Time is the kind of movie I hope to see at Sundance each year — a coming of age story which is smart, funny, and able to touch your soul. On Twitter I called the film an indie Can't Hardly Wait for a new generation, and while I'm not sure that comparison is completely valid I'm going to go with it. The story is not set over the course of one night, but instead over the course of one weekend. While Wait was primarily set at a party, a high school party is the starting point for The First Time. This is where Dave Hodgman (Dylan O'Brien) meets Aubrey Miller (Britt Robertson) for the first time.
Dave is an awkward, hopeless romantic who has been pining to someday go out with his best friend: the beautiful and popular Jane Harmon (Victoria Justice), who sees Dave as nothing more than the sweet caring... best friend. Aubrey is a whip-smart girl from another school across town who seems to know more about relationships,love, and... well, everything. She gives Dave some key advice and, more importantly, confidence. If only she didn't have a boyfriend...
Written and directed by Jonathan Kasdan, who started off as a writer on Freaks and Geeks and Dawson's Creek, the characters in this movie feel like a mash-up of both of these worlds. The main character is awkward yet charming. The dialogue is maybe a bit overwritten, and the characters talk smarter and faster than any teenager you've ever met. While this might bother some people (please note: its not super stylized slang-heavy dialogue a la Juno), I enjoyed it.
If I have any issue with the film it is that it tries to be more glossy than it needs to be. The lead, Dylan O'Brien, feels like he's a male model (heck, he stars in MTV's Teen Wolf series), which makes it hard to imagine that he's the loser geek that the story makes him out to be. That said, his awkward performance seems so natural that my hesitations went away about 20 minutes in. Britt Robertson's performance is front and center and will win you over — I'm convinced that we will see a lot more from her in the coming years.
Kasdan directed episodes of the hit Showtime series Californication and made his feature directorial debut with the 2007 film In the Land of Women (which probably would have been a financial success if it was released a couple years later, post Twilight). It might also be worth noting that Jonathan is the son of Lawrence Kasdan, the four time Oscar nominated writer of Empire Strikes Back and Raiders of the Lost Ark.
While I don't feel that First Time adds anything new to the countless coming-of-age movies you've seen before — it nails the feeling and moments perfectly. The First Time will make you remember the time in your life with a Friday night felt like it lasted forever, the crushes of your high school years, your misguided attempts at love and the awkward first relationship. It perfectly captures all of these moments. It feels like a film that John Hughes might have made if he were alive today.
/Film rating: 8 out of 10