'Celeste & Jesse Forever' - Rashida Jones Finally Makes Herself The Leading Lady She Deserves To Be [Sundance 2012]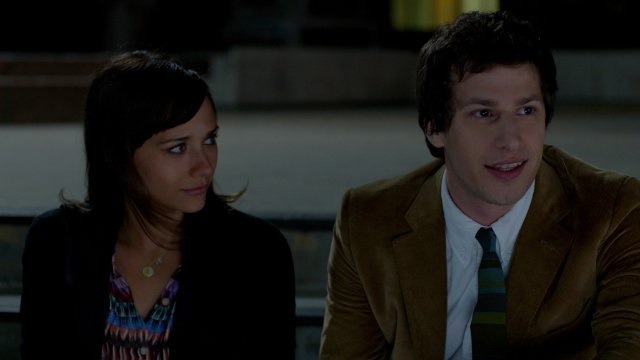 If at first you don't become a leading lady, write yourself a movie. It worked for Kristen Wiig and Bridesmaids and it should work for Rashida Jones, the lovable and talented co-star of Parks and Recreations, I Love You Man, The Muppets and about a billion other things we all enjoy. Jones arrived at the 2012 Sundance Film Festival with a film called Celeste & Jesse Forever, in which she both stars, with Andy Samberg, and takes co-writing credit with Will McCormack. But unlike Wiig and Bridesmaids, Celeste & Jesse isn't a balls-out comedy. It is a mature, romantic dramedy that explores, through very funny observations and situations, the story of a separated couple who still spend all of their time together.
Directed by Lee Toland Krieger (The Vicious Kind) and co-starring Elijah Wood, Ari Graynor, Chris Messina, Emma Roberts and Eric Christian Olsen, Celeste and Jesse Forever has a bit of an identity crisis but it ends up being very pleasant, thanks in large part to Jones.
Everyone has their soulmate and for Celeste (Jones) and Jesse (Samberg) it's each other. But they're getting a divorce and no one knows why. Despite the divorce, they're always, always together and it creeps out most of their friends. The premise for Celeste and Jesse Forever seems ripe for comedy and while it's regularaly played for laughs, the majority of the movie is more dramatic than comic. There are children involved. Working. Dating. A surprising lack of sex. Jones and McCormack's screenplay does a very good job of balancing these tones for the most part (Toland Krieger certainly helps too) but the tonal shifts are at times jarring. For that reason, an 89 minute movie feels two hours long.
And while Samberg, not known for his dramatic chops, holds his own, Celeste & Jesse Forever is all about Jones. It's her character that the audience relates to and her performance that makes it okay to laugh or cry depending on the scene. Despite her flaws, you can't help but love Celeste because she deals with all these situations with such grace.
You'll definitely be seeing Celeste and Jesse Forever at some point. It's a rare date movie that's okay for teens, adults and everyone in between.
/Film Rating – 7 out of 10