Sequel Bits: Martin Starr Says "There's Nothing Official" For 'Party Down', Plus: 'Star Trek 2', 'Bridesmaids 2'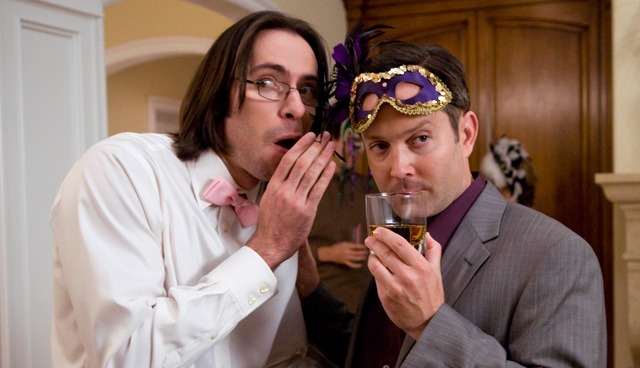 Today's Sequel Bits is a low-key one, with just a smattering of minor updates on things we've talked about before. But if you're a big fan of Star Trek, Bridesmaids, and/or Party Down, we figured you might want to know anyway. After the jump:
Martin Starr says "there's nothing official" on the Party Down movie quite yet
An insider reveals the real reason Kristen Wiig turned down Bridesmaids 2
Roberto Orci offers some small tidbits about the production of Star Trek 2
I know that things have gone out that make it seem like it's official, but there's nothing official. We all have our fingers crossed and hope that everything works out and that we can get it made. There are small steps being taken that hopefully will lead to people signing contracts and us getting to do something, but at the moment I'm not capable of saying that it's happening yet.
Starr continued that though he'd "heard of the possibility of financiers," he wasn't sure "to what degree things are moving forward, or if things are moving forward." "Hopefully those talks lead to us getting to make an amazing movie that all seven of us fans can watch," he joked.
In the meantime, Party Down fans can comfort themselves with upcoming projects featuring the show's alums, including Starr and Lizzy Caplan's Save the Date and Caplan and Adam Scott's Bachelorette.
Although Kristen Wiig's been crystal clear about not wanting to do another Bridesmaids, she's been somewhat less candid about her reasons for declining. Earlier this month, THR speculated that she'd been disappointed with the "insulting" $100,000 bonuses that Universal doled out to the first film's six core stars. However, an insider now tells Vulture that Wiig was in fact "fine with the bonus," and that the reason she turned down the sequel had more to do with her long-term career plans. Specifically, it was about her fear of becoming yet another Saturday Night Live player who fails to make the leap to a lengthy, healthy, varied career.
"The key to longevity is transformation," said the source. "Always doing something a little different. A Bridesmaids sequel feels a little avaricious and mercenary." Producer Art Linson, who's working with Wiig on the upcoming The Comedian, speculated that the drive to try something new could have been a factor in her decision as well. "I doubt that it's a business decision for her," he said. "She can write, she can act; she doesn't just 'do funny,' so I'd think it's more likely that her thinking is, 'I want to play with all these toys until the battery runs out.'"
Whatever the reasoning, Wiig's got plenty on her plate even without Bridesmaids 2. On top of her ongoing SNL gig, she has Friends With Kids, Imogene, and Revenge for Jolly! due out this year, plus Freezing People is Easy, The Comedian, and The Secret Life of Walter Mitty lined up for the slightly more distant future.
Though the details of Star Trek 2 are being kept under tight wraps, every once in a while we're treated to a few crumbs of information on the upcoming sequel. Co-writer/producer Roberto Orci dropped a few such tidbits recently on TrekMovie.com while speaking with fans in the comments.
Orci confirmed that the budget for Star Trek 2 was "more" than what they'd had for the first one, and that the new film would be "bigger" in scope. The budget of J.J. Abrams' 2009 marked a new record for the Star Trek series, so Star Trek 2 would be the biggest Star Trek movie yet. TrekMovie.com speculates that a good chunk of the cash could be going the 3D post-conversion that Abrams announced late last year.
Orci also expanded (a tiny bit) on his earlier tweet about there being "some cool improvements to engine room." "You'll see more of it," he told fans.