First Liam Neeson Fights Wolves; Now James Marsden, Thomas Jane & Billy Bob Thornton Battle A Bear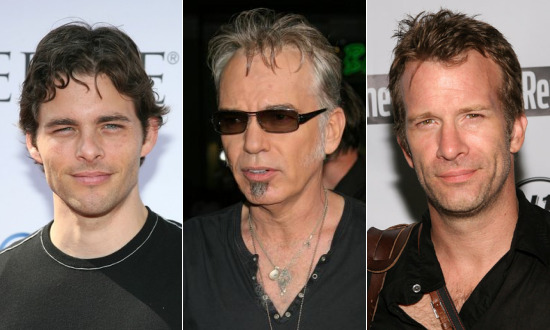 Liam Neeson may need nothing more than broken minibar bottles to face off against a wild wolf in The Grey, but I doubt even he could go hand-to-hand with a 700-pound grizzly bear all by himself. No, to battle a creature that big, you'd need at least three people — like, say, James Marsden, Thomas Jane, and Billy Bob Thornton. The three actors are now set to star in a man vs. thriller titled Red Machine, from Saw V director David Hackl. More details after the jump.
Have we learned nothing from Werner Herzog's Grizzly Man, people? Messing with these creatures is never a good idea. (Maybe Thornton is a Project Grizzly fan.)
Marsden, who was last seen in Rod Lurie's Straw Dogs remake, has four films lined up for 2012, including the wedding comedy Bachelorette and the thriller Loft. Thornton is currently in post-production on the period drama Jayne Mansfield's Car, which he directed and stars in.
Jane's TV show Hung was recently cancelled by HBO, but he's got a steady stream of films coming up including that horrible-looking Miley Cyrus movie LOL. His last big-screen appearance was Mark Pellington's divisive drama I Melt With You, opposite Jeremy Piven, Rob Lowe, and Christian McKay.
In contrast to the seasoned cast in front of the camera, the team behind the camera is relatively inexperienced. Red Machine is Reher's only IMDb credit, and Hackl's directed just one previous feature (the aforementioned Saw V). [Variety]