LOL: Volkswagen Super Bowl Teaser 'The Bark Side' Combines Internet's Two Favorite Things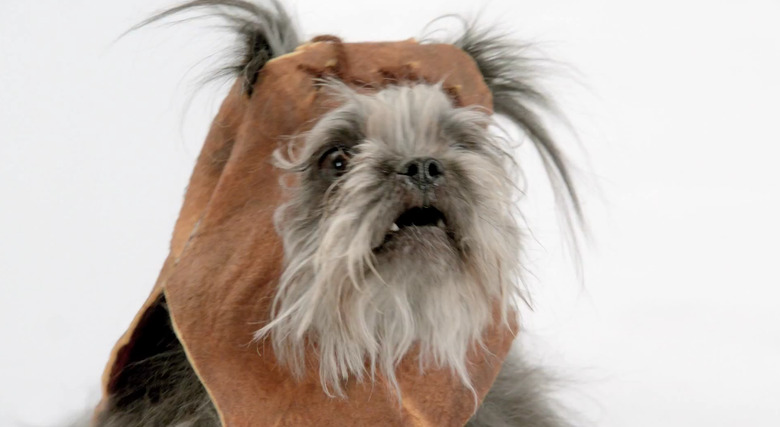 If you ask me, Volkswagen's "The Force" was hands-down the best commercial of Super Bowl 2011. And seeing as the ad topped YouTube's list of the most-watched ads of 2011 as well as AdWeek's list of the best commercials of the year, I suspect I'm not the only one who thought so. It's no wonder, then, that Volkswagen is looking to return to familiar territory in this year's Super Bowl slot — or that they're going out of their way to make sure you know it.
The car company has just posted a teaser for its upcoming ad, which combines two of the Internet's favorite things: Star Wars and adorable animals. If this isn't tailor-made for going viral, I don't know what is. We don't normally post commercials for commercials on /Film (well, okay, sometimes we do), but I'm going to make an exception for this one just because it put a big smile on my face. Watch it after the jump.
[via Pajiba]
Volkswagen's official description on their YouTube page promises that "it will all make sense" when we actually see the full-length commercial, but what's there to make sense of? No, I have no idea what puppies barking "The Imperial March" has to do with selling German cars, and I don't care. I bet George Lucas and Ron Paul just wish they'd thought of this first.
You can check out the full commercial (which is probably for the VW Beetle, somehow) when it airs during the third quarter of the Super Bowl on February 5, 2012. Other notable ads we'll likely see that day, according to Ad Age, include spots for Relativity's Act of Valor, Universal's Battleship, and Disney's John Carter.
Last year's game featured commercials for Super 8, Kung Fu Panda 2, Drive Angry 3D, Fast Five, Priest, Just Go With It, Rio, The Eagle, Battle: Los Angeles, Transformers: Dark of the Moon, Captain America: The First Avenger, Thor, Rango, Pirates of the Caribbean: On Stranger Tides, Cowboys & Aliens, Limitless, and Terra Nova; you can relive several of them here.