David Kajganich Writing Ben Affleck's 'The Stand'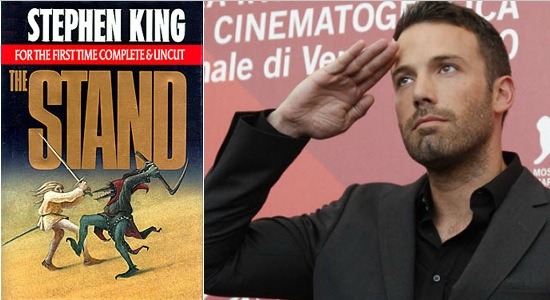 Briefly: Warner Bros. has spent a lot of time developing big-budget adaptations of two classic Stephen King tomes, It and The Stand. The latter has seen a lot more activity of late, with Harry Potter team David Yates and Steve Kloves briefly attached to make the film before they decided one or two feature films wouldn't do justice to the material. Ben Affleck stepped in as director, and now that he's done shooting the true-life thriller Argo, he seems to be moving forward with The Stand.
But this one isn't going to shoot super-fast. Vulture reports that David Kajganich has been hired to rewrite write The Stand. Kajganich also did the latest draft of It, as well as being one of the writers on the Pet Sematary remake. (He's the new Mick Garris!) He's also credited with writing the barely-seen Joel Schumacher movie Blood Creek and Invasion of the Body Snatchers remake The Invasion.
Vulture says Kajganich "wowed" Warners with his It script, so we'll see how this goes. The Stand is material that either needs a sprawling structure or a hell of a trim, if not both. Not the easiest adaptation.