'American Reunion' International Trailer – The More Things Change...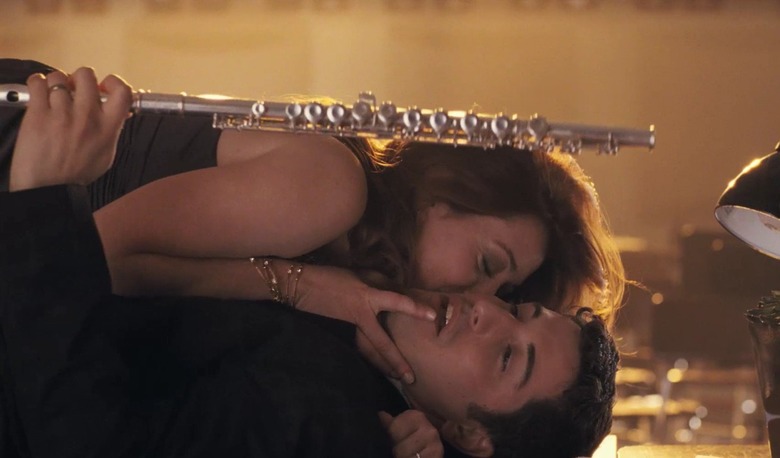 As someone who was almost the same age as the central characters when the first American Pie was released in 1999, I am totally, unironically excited to see the East Great Falls crew together again for American Reunion, even as I suspect I'll find the franchise has lost some of its charm over the past decade. Still, the marketing so far has been pretty solid, and I'm thrilled to see that even as some things have changed — they're no longer virgins, for one — others have remained exactly the same.
The new international trailer sees returning stars Jason Biggs, Alyson Hannigan, Seann William Scott, Eddie Kaye Thomas, Thomas Ian Nicholas, Chris Klein, Mena Suvari, Shannon Elizabeth, Tara Reid, John Cho, Eugene Levy, and Jennifer Coolidge all coming back home for the all-important high school reunion, while franchise newcomers Dania Ramirez and Katrina Bowden make appearances as well. Watch the (NSFW) video after the jump.
[via Coming Soon]
The first half of the trailer is identical to the previously released green-band one, but we get a few new scenes in the second half — including one of Stifler using an icebox as a toilet. If you were at all concerned that the older, wiser gang wouldn't be able to recreate the juvenile shenanigans of the original Pie, that should put your worries to rest.
Directed by Jon Hurwitz and Hayden Schlossberg (Harold & Kumar Escape from Guantanamo Bay), American Pie opens April 6.
Synopsis:
In the comedy American Reunion, all the American Pie characters we met a little more than a decade ago are returning to East Great Falls for their high-school reunion. In one long-overdue weekend, they will discover what has changed, who hasn't and that time and distance can't break the bonds of friendship. It was summer 1999 when four small-town Michigan boys began a quest to lose their virginity. In the years that have passed, Jim and Michelle married while Kevin and Vicky said goodbye. Oz and Heather grew apart, but Finch still longs for Stifler's mom. Now these lifelong friends have come home as adults to reminisce about—and get inspired by—the hormonal teens who launched a comedy legend.