TV Bits: Rick McCallum Says 'Star Wars' Show Is "'Empire Strikes Back' On Steroids," Plus: 'American Horror Story', 'The Walking Dead', 'The Killing', And More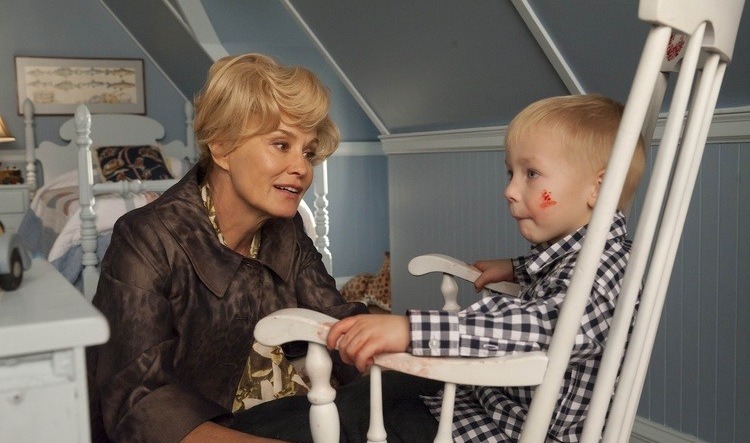 Is it Halloween already? Today's TV Bits is dark and spooky, as it deals with vampires, zombies, murderers, and other scary creatures. (Insert your own joke about some of Star Wars' CGI characters being their own brand of horrifying here.) After the jump:
Rick McCallum talks about the Star Wars TV show (again)
ABC releases a trailer for Oren Peli's The River
NBC picks up Dracula from Black List writer Cole Haddon
Golden Globe winner Jessica Lange ponders a return to FX's American Horror Story
AMC announces the Season 2 premiere of The Killing and orders an extra dose of The Walking Dead
It's much darker [than the movies]. It's a much more adult series. I think, thematically, in terms of characters and what they go through, it will be... if we can ever get it together and George really wants to pursue it, it'll be the most awesome part of the whole franchise, personally.... It's Empire Strikes Back on steroids.
McCallum revealed that the original idea had been "Deadwood in space," and he's compared it to The Godfather in the past as well, but even with the mature it shouldn't surprise anyone that they'll be toning things down a bit for the series. "Obviously, we changed it for where we couldn't go in terms of language," he said. "It was to be serious performances, very complicated relationships, unbelievable issues of power and corruption, greed, vanity, pride, ego manifesting itself at levels that only equal the world that we live in now, but, as I said, on steroids."
For more on the Star Wars television series, head over to Collider.
After the release of three very successful Paranormal Activity movies, director Oren Peli is about to make his first foray into television with next month's The River. Executive produced by Steven Spielberg (though it kind of feels like everything is these days), the "found footage"-style series centers around the search for nature TV host Emmet Cole (Bruce Greenwood), who's gone missing in the Amazon. The first episode was directed by Orphan helmer Jaume Collet-Serra, and also stars Joe Anderson, Leslie Hope, Paul Blackthorne, Eloise Mumford, Daniel Zacapa, and Thomas Kretschmann. Watch the trailer below:
The River debuts Tuesday, February 7 on ABC. [Shock Till You Drop]
I suppose it's pretty fitting that the vampire trend just won't die, isn't it? NBC is now about to take its own stab (ha ha) at the subgenre with Dracula, an 1890s-set drama described as "Dangerous Liaisons meets The Tudors" with an international setting and a young, sexy appeal. Tony Krantz (24, Felicity) and Colin Callender (Tsunami: The Aftermath) will executive produce, while Cole Haddon is set to write. The network has given Dracula a "script-to-series" commitment, which means it'll skip the pilot stage and go stright to series if NBC approves of the script.
Haddon is relatively new at screenwriting, but could already be carving out a niche for himself reinterpreting dark characters of classic literature; his Dr. Jekyll and Mr. Hyde-inspired script Hyde earned a Black List spot back in 2010. [Deadline]
As the wild first season of American Horror Story drew to a close, co-creator Ryan Murphy revealed that the show would go in an entirely different direction in its second season, moving to a new haunted locale and incorporating a mostly new cast. Though the Season 2 lineup remains mostly undecided at this point, Golden Globe winner Jessica Lange has revealed that she, for one, is considering a return. "Yes, we are considering a second season," Lange told TV Line. "Nothing is definite yet." If Lange does come back, however, she won't be reprising the character that won her the prize. "I know that everybody that is returning will be playing a different character," she said.
Murphy has previously confirmed that stars Connie Britton and Dylan McDermott would not be coming back, though he's said that other unnamed Season 1 stars could return in different roles. [via Hollywood.com]
While we prepare for the March return of Mad Men, AMC has announced release dates for one of its other hit dramas, The Killing. The second season of the crime drama will kick off with a two-hour premiere on Sunday, April 1 at 8 PM, against HBO's Game of Thrones Season 2 premiere at 9 PM. Upon its return, The Killing will pick up where it left off with the Rosie Larsen murder, which won't be solved until the Season 2 finale, and will also introduce a new mystery.
Meanwhile, there's good news for fans of The Walking Dead as AMC announces that the upcoming third season will consist of 16 episodes, rather than the current season's 13. The second season, which has been on hiatus since late November, is gearing up to return on Sunday, February 12. [TV Line]