'Meaning Of Robots' Trailer: Robots Need Lust, Too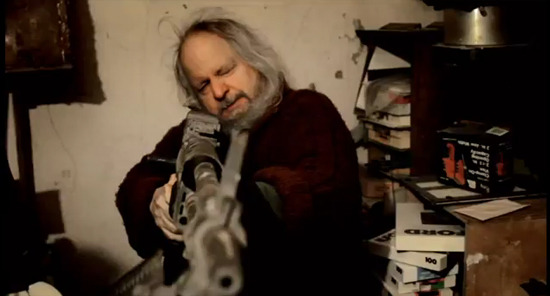 With this one-minute trailer, the short film Meaning of Robots just became a film I'm very interested to see. The trailer at first seems to be a pretty straight-forward document about Mike Sullivan, a nice old guy who makes robots. But look closely at his designs, and you'll see they're a bit more... sexualized than what you might expect to see. That's just the beginning.
This trailer is great stuff, but it is definitely not safe for work thanks to language, which will make a lot more sense when you check it out. Please do so.
"Oh, and here's a robot fucking machine." Boom. If you needed a short film to program in front of Shame (or maybe Lars and the Real Girl or Air Doll), looks like this could be the one. Sounds like this is a weird little tale of obsession and sex, and that's just about perfect fodder for a short. Plus, those robots look awesome. The robotic Maria from Metropolis would approve.
Matt Lenski directed this little piece of gold.
The benevolent Mike Sullivan, age 65, has been shooting an epic stop-motion robot sex film in his apartment for the last 10 years. Obsessed with constructing the miniature robot porn stars, his apartment now overflows with thousands of them.
[via FirstShowing]