'Star Trek 2': Shooting Begins In LA, Plus: Damon Lindelof, Bruce Greenwood, And Benedict Cumberbatch Talk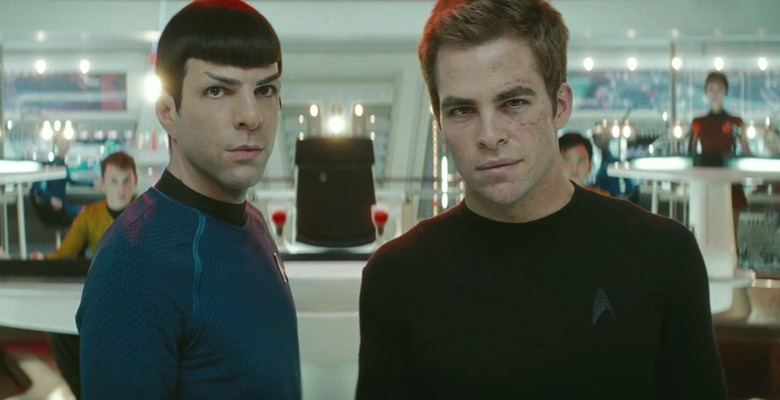 Well, it's about time. Two and a half years after the release of J.J. Abrams' Star Trek, cameras are finally rolling on Star Trek 2, which is due out May 17, 2013. Returning cast and crew members reconvened and welcomed new stars last week as principal photography began in Los Angeles, kicking off several months of shooting in various locations around the county. After the jump:
Minor details on shooting locations are revealed
Roberto Orci hints at an upgrade to the engineering room
Damon Lindelof and Bruce Greenwood get really excited about Star Trek 2
Is Benedict Cumberbatch really playing a villain?
And at least one part of the ship we did see will be getting an upgrade. Writer/producer Roberto Orci tweets that the engine room, which Van Nuys' Budweiser Brewery facility stood in for in the last installment, will be a little nicer this time around. "I'll tell you this. There are some cool improvements to engine room!" he tweeted.
As production kicked into gear last week, a few of the people involved had some comments about how it felt to board the Enterprise again. Lindelof expressed his enthusiasm for the project and (like star Alice Eve before him) his fear of disappointing the fans:
I have had the good fortune to once again step upon the Enterprise bridge, surrounded by the primary colors worn by, in my humble opinion, one of the greatest casts ever assembled. Every single person involved with this movie has the same ambition — to do everything they can to justify the long wait ... to live up to the lofty expectations of 40-year 'Trek' fans and those who are coming to the party for the first time. The energy is crackling. The warp core is primed. And we are, at long last, ready to boldly go once again. I hope to God we don't screw it up.
Meanwhile, Bruce Greenwood, who recently signed on to reprise his role as Admiral Christopher Pike, spoke fondly of his fellow crew members as well as the overall experience:
The family deal that happened was just amazing... I loved the first one and I loved making it too. Usually when you work on a job and you love the experience, it's rare that the film matches the experience. You get one or the other but this was one of the few where it was all there. It was just great. I was talking to Anton the other day and he was saying that they all got together on the bridge a few weeks ago and it was just like no time had passed at all. None. I had dinner with Chris a few months ago and he said he couldn't wait to get back with the gang of people that makes this work. The same with me. They're wonderful people and the show is like the icing. What's great is the family. I know it's an overused term and people roll their eyes but it really feels that way to me.
Everybody's got their script – all printed on red paper with every actor's name stamped across every page — and their brown bag and we've all signed these releases that are as long as your leg. The script is good, as you would expect. You won't be given anything by anybody when it comes to the movie. It's easier to push the building than get anything out of anyone. We have a huge stage here, I haven't seen it. It's exciting.
But not all stars were so forthcoming, and with good reason. When franchise newcomer Benedict Cumberbatch boarded the picture earlier this month, it was widely reported that he'd beat out Edgar Ramirez for the role of the main villain. However, neither Cumberbatch nor director J.J. Abrams have actually confirmed what character Cumberbatch would be playing, and in a recent interview Cumberbatch hinted that he might not be a bad guy at all.
MTV's Josh Horowitz caught up with the actor at this weekend's Golden Globes, and at one point started to ask a question about Trek. "We know it's a villain, it's the villain I guess..." Horowitz began.
But Cumberbatch quickly cut in. "I don't think we do know that, actually. I think that's just supposition. That's all I'm going to say about it." The Sherlock star then (very sweetly) refused to say any more about the matter.
As Cinema Blend points out, combined with Abrams' recent reply to Collider about Cumberbatch's character ("Who said he's our villain?" the filmmaker asked), this could indicate that Cumberbatch really isn't a villain. Or, this being Abrams, it could also just be an extra clever way of throwing us all off the scent. In any case, check out the video for yourself and see if you can pick up any nonverbal cues that I didn't.