Photos: 'The Hunger Games', 'This Is Forty', 'Gangster Squad', 'Men In Black 3,' 'Frankenweenie'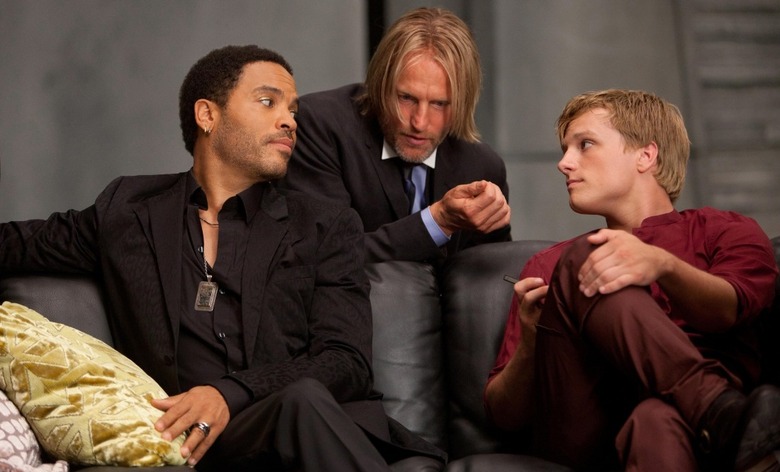 As we head toward the Oscars and therefore the end of awards season, it's time to take a better look at some of the films we're anticipating from 2012. We have for you today an eclectic mix of photos from some of the entertainments we're most looking forward to, from Gary Ross' deadly serious YA adaptation The Hunger Games to Judd Apatow's almost-middle-age comedy This is Forty and everything in between. Check out photos for those films plus The Gangster Squad, Men in Black III, and Frankenweenie after the jump.
[All photos via The LA Times]
We've already seen enough photos from The Hunger Games that there isn't anything terribly exciting about this photo, but I for one never tire of checking out Effie's Gaga-esque fashion sense. Effie (Elizabeth Banks), Katniss (Jennifer Lawrence), Haymitch (Woody Harrelson), and Peeta's leg (Josh Hutcherson's leg) appear to be waiting for the scores from Katniss and Peeta's training sessions before the Games. Directed by Gary Ross based on the novel by Suzanne Collins, The Hunger Games opens March 23.
The latest image from Men in Black III features a scene that'll be familiar to anyone familiar with the franchise: Agent J (Will Smith) and Agent K (Tommy Lee Jones) use their trusty neuralyzer to ensure that a civilian forgets all about the alien incident he's just witnessed moments ago. The new film sees J heading back to the '60s and teaming up with a younger version of his partner K (Josh Brolin). Alice Eve, Emma Thompson, Johnny Knoxville, and Jemaine Clement also star. Men in Black III will be released May 25.
Tim Burton will be circling back to the early days of his career with this fall's Frankenweenie, a feature-length remake of one of Burton's own shorts from 1984. The black and white stop-motion animation revolves around young Victor (voiced by Charlie Tahan), who uses his scientific knowledge to bring his recently deceased dog Sparky back to life. Featuring the voices of Winona Ryder, Martin Short, Catherine O'Hara, Martin Landau, and Atticus Shaffer, Frankenweenie will open in 3D October 5.
Of the many films due out this year, few boast a stronger cast than Ruben Fleischer's The Gangster Squad, which features Ryan Gosling and Josh Brolin as a pair of cops trying to take down mob boss Mickey Cohen (Sean Penn) in 1940s Los Angeles. Nick Nolte, Emma Stone, Anthony Mackie, Michael Peña, Giovanni Ribisi, and Frank Grillo also star in the fact-based drama, which hits October 19.
Though he's the reigning king of R-rated comedy, in truth Judd Apatow's helmed only a handful of the films he's been associated with, the last one being 2009's Funny People. This year will see him returning to the director's chair with the unofficially titled This is Forty, a Knocked Up spinoff focused on Pete (Paul Rudd) and Debbie (Apatow's real-life spouse Leslie Mann). The first photo from the film shows the happy couple and their two kids (Apatow and Mann's children Maude and Iris Apatow) celebrating Pete's birthday with funny-looking hats and plenty of cake. The film hits theaters December 21.