Sequel Bits: Tim Burton Considering 'Beetlejuice 2', Plus: 'Jurassic Park 4', 'Can't Hardly Wait 2', 'The Brothers McMullen 2'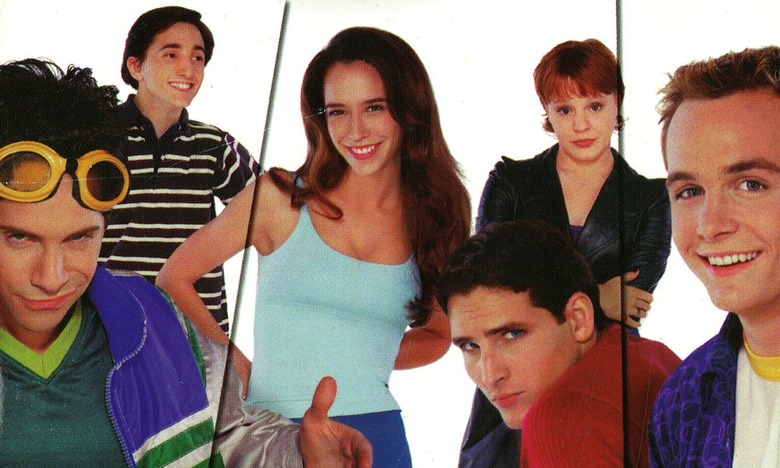 It's not so unexpected for a hit movie to get a sequel a year or two out, but it's also becoming increasingly common for franchises to pick up with the characters again ten or even twenty years after the last installment. In this edition of Sequel Bits, we have a handful of possible upcoming projects that look back to the '80s and '90s for inspiration. After the jump:
Tim Burton considers getting involved with Beetlejuice 2
Steven Spielberg won't be directing Jurassic Park 4
Edward Burns could revisit his debut The Brothers McMullan, twenty years later
Peter Facinelli discusses the possibility (or lack thereof) of a Can't Hardly Wait 2
Yes. I love that character, and Michael [Keaton] is so great in it. I always think about how great and fun that character was, so I just said to Seth [Grahame-Smith], "If you have some idea about it, go for it, and then I'll look at it freshly." In the past, I tried some things, but that was way back when. He seemed really excited about it.
For his part, Burton seemed very excited about it as well as he sang Keaton's talents. "Michael was so great in it," he enthused. "I'm sure he'd strangely tap right back into it." However, Burton told MTV that Grahame-Smith had to run his ideas for the sequel by Burton. "I told him to try some stuff, but he hasn't come back to me yet," he said. [via Bloody Disgusting]
Over a decade after the release of Jurassic Park III, progress on Jurassic Park IV continues to be slow-moving — but it is moving, according to director Steven Spielberg and longtime producer Kathleen Kennedy. Kennedy said last month that the film was still looking for the right script, and Spielberg confirmed his involvement in a more recent interview with Collider. "I don't want to talk about Jurassic Park 4 yet – it's too early – but I can tell you that I'm not directing it. I'm producing it though," he said.
The filmmaker was reluctant to give any solid details about the film, but he stated last year that Mark Protosevich was working on a screenplay and that he expected the film to come out "in the next couple of years." Here's hoping he'll start to open up a bit more in the coming months.
Way back in 1995, a then-unknown Edward Burns made a splash at Sundance by picking up the festival's Grand Jury Prize for his debut feature The Brothers McMullen, which he wrote, directed, and starred in. In the seventeen years since, Burns has built up a respectable career on both sides of the camera, but The Brothers McMullen remains the most acclaimed entry on his filmmaking resume. Now, as that movie approaches its 20th anniversary, Burns says he's thinking about revisiting it.
"I've started to outline the sequel to McMullen. The twentieth anniversary will be in 2015, so my goal is to shoot it at the end of next year to have it ready in time," he told IamRogue. Burns revealed that he was inspired both by his I, Alex Cross co-star Tyler Perry, who advised him to return to his Irish-American roots, and by Kevin Smith, who revisited the characters of his 1994 debut Clerks in 2006's Clerks II. "When I saw Clerks II that's the first time that I got the notion and thought that it was very smart of him to do that. Then the movie turned out great so I was like, why not?" [via Movies.com]
This spring, we'll get a chance to see what became of the East Great Falls gang when American Reunion finally hits theaters. But what of the other teens we grew up watching on the big screen? Like, say, the kids from Can't Hardly Wait? As it turns out, star Peter Facinelli (who played jock Mike Dexter) is pretty curious too. "I would totally do it," the Twilight actor said to IFC. However, it's unlikely he'll get that opportunity any time soon: "I think Sony put the nix on it."
But if it were to happen, somehow, Facinelli has some ideas about what he'd like to see. "You know how the whole movie takes place at the high school party? We could have the whole movie take place at the reunion. I thought it'd be a fun movie." Fans of the original no doubt recall that it ended with blurbs detailing the paths each character takes in the years following the events of the film; Facinelli's character winds up losing his football scholarship and then his subsequent car wash job, all after losing his girlfriend Amanda (Jennifer Love Hewitt) over the course of the movie. Facinelli floated the idea of a sequel about his character winning back his ex, in a reversal of the original film's plot. "I said I would only do it if he could get Amanda back at the end of the movie," he said. The star continued:
I think basically everyone's stereotypes are now switched. Now [Mike Dexter]'s basically the loser. The nerd was the loser in the first movie, now he's like the loser and then he kind of climbs back and gets back on his horse. And the nerdy kid is now the Bill Gates whose kind of like the Mike Dexter, bossing everyone around.... I think at this point [Mike Dexter] would have dipped even lower than former glories. I think he's just literally a loser. He's filled with self-doubt and he would basically rise to self-confidence again and come back on top.
As a teen, I fell in love with Can't Hardly Wait long before (okay, like a year before) I did American Pie. And the part of me that still adores that movie begs Sony to change its mind, because even though I more or less know how the characters turn out, I would gladly shell out another $12 to actually see their destinies play out on screen.