The CW Nearing Pilot Order For Green Arrow TV Series 'Arrow'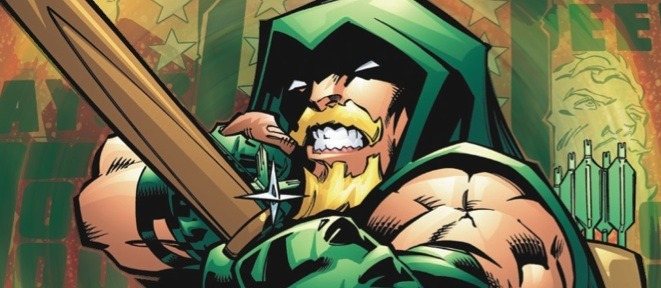 The CW lost Smallville when the series ended with the finale of the show's tenth season in May 2011. Since then, the network has been looking at other DC properties, like the Deadman series that is being spearheaded through development by Supernatural's Eric Kripke.
Now the CW is nearly ready to order a pilot for what could become its new DC franchise: Arrow, a show based on the long-running DC archer Green Arrow. The show would be an hourlong drama conceived and exec produced by Greg Berlanti and Marc Guggenheim, who were the primary writers among several people credited for the script for last summer's Green Lantern.
Deadline says the Berlanti and Guggenheim take on Green Arrow "sets him in a new world with an original story that is not based on the comics." That's all we've got right now, but the pilot was scripted by Andrew Kreisberg, who is also an exec producer. (He worked on the ABC show Eli Stone, and wrote the comic Green Arrow and Black Canary, so he's no stranger to the character.)
There is no director for the pilot at this point, but Smallville pilot director David Nutter could end up taking that duty.
Despite the fact that a version of Green Arrow, played by Justin Hartley, was a regular character on Smallville, Hartley is not attached at this point to play the lead in Arrow, and it sounds like this might be a totally different version of the character. That could cause some initial confusion, but if the show is any good it will all even out sooner rather than later.
And, sure, Berlanti and Guggenheim end up taking some of the blame for the fact that Green Lantern was a pretty lousy movie. But that movie also seems like the product of producers and execs who couldn't decide what they really wanted, and so tried to shoehorn many different ideas into one picture. Green Lantern felt like a few different scripts stapled together, and I wouldn't be quick to blame Berlanti and Guggenheim for that.