'The Cabin In The Woods' To Open South By Southwest 2012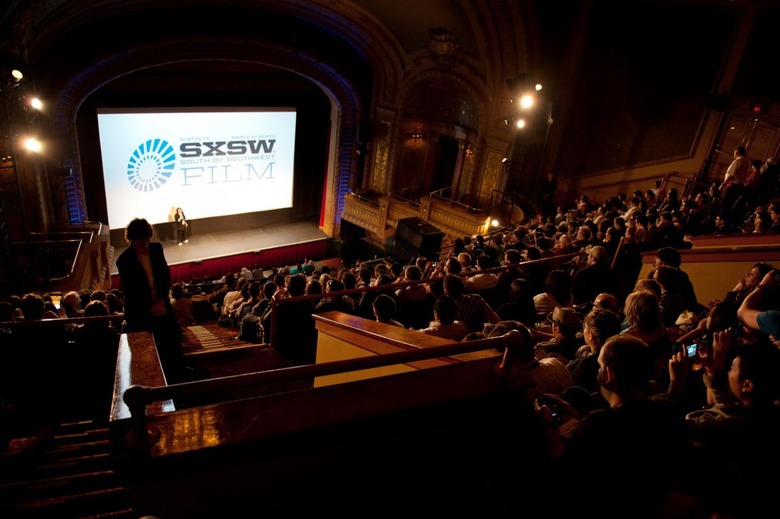 Drew Goddard's long delayed deconstructive horror film, The Cabin in the Woods, is so good it deserves a massive coming out party. That's exactly what it's going to get this March.The Cabin in the Woods was just announced as the opening night film of the 2012 South by Southwest Film Conference and Festival which will take place in Austin, Texas from March 9-17. Co-writer and producer Joss Whedon will be on hand for a conversation panel the day after the upcoming HBO TV show Girls, produced by Judd Apatow and starring Lena Dunham, will also debut, screening several episodes along with Q&As featuring much of the creative team. Read more about the film, the show and the festival itself after the jump.
Starring Chris Hemsworth, Richard Jenkins and Bradley Whitford among others, The Cabin in the Woods it the perfect movie to start a film festival. It's a huge, gory horror movie – which is always fun – but as the film moves along, it just keeps getting crazier and crazier and the audience gets louder and louder as you realize you're all together experiencing something unique. Learn as little about this film as possible. Not only will seeing it create a great atmosphere, it's a film that people will be talking about for the entirety of the event.
Here's the full press release for the opening night film, including information on Girls and a few other films that have been announced for the festival. Expect a much more thorough reveal in the coming weeks.
The South by Southwest (SXSW) Film Conference and Festival is pleased to announce the world premiere of Lionsgate's The Cabin in the Woods as the 2012 Opening Night Film. In addition to premiering the film, Whedon will participate in a key Conversation panel at the SXSW Film Conference on Saturday, March 10.
Produced and co-written by iconic genre storyteller Joss Whedon, The Cabin in the Woods marks Emmy®-nominated writer Drew Goddard's (Cloverfield, Lost, Alias) first foray into directing.  This mind-blowing horror film starts typically enough, as we join five young adults embarking on a weekend of debauchery at an abandoned cabin in the woods.  But as layer after layer of the film's truly kaleidoscopic world is revealed, everything we know about horror is deconstructed, and everything we love is reconstructed before our eyes. The film stars Kristen Connolly, Fran Kranz, Anna Hutchison, Chris Hemsworth, Jesse Williams, Richard Jenkins, and Bradley Whitford, and will be in theaters everywhere on April 13, 2012.  For more information about the film please visit: www.discoverthecabininthewoods.com/.
SXSW also revealed a handful of exciting titles that will premiere at the 2012 event, comprised of diverse perspectives that exemplify the unique range of the SXSW program. This includes Lena Dunham's return to SXSW with her HBO series GIRLS, which will premiere the initial three episodes publicly for the first time. Dunham, Executive Producer Judd Apatow and other key members of the GIRLS production team will also appear at the SXSW Film Conference to discuss GIRLS before it kicks off its ten-episode season in April, exclusively on HBO. Moderated by actor Alex Karpovsky (Tiny Furniture), the panel will take place on Tuesday, March 13.
Additional films announced include Academy Award-winner Kevin Macdonald's Bob Marley documentary, MARLEY, Small Apartments, a black comedy from acclaimed music video director Jonas Åkerlund, Neil Berkeley's doc Beauty is Embarrassing about multi-faceted artist Wayne White, special event The Oyster Princess (1919) with original live score by Bee vs. Moth and CITADEL, the psychological horror debut from writer/director Ciarán Foy. The complete festival lineup will be announced in early February 2012. The 19th annual South by Southwest Film Conference and Festival runs March 9 – 17, 2012 in Austin, Texas.
"Announcing the first films of our program is always energizing, but we're especially thrilled to have such a smart, unpredictable and highly entertaining headliner like The Cabin in the Woods as our Opening Night film," said SXSW Film Conference and Festival Producer Janet Pierson. "We're also happy to offer a peek at a handful of wonderful films that demonstrate the breadth and range of terrific work we plan to show at SXSW Film 2012."
The 2012 SXSW Film Festival will feature:
Beauty is Embarrassing (World Premiere)
Director: Neil Berkeley
A funny, irreverent and insightful look into the life and times of one of America's most important artists, Wayne White.
The Cabin in the Woods (World Premiere)
Director: Drew Goddard, Writers: Joss Whedon & Drew Goddard
Five friends go to a remote cabin in the woods. Bad things happen. If you think you know this story, think again. From fan favorites Joss Whedon and Drew Goddard comes The Cabin in the Woods, a mind-blowing horror film that turns the genre inside out. Cast: Kristen Connolly, Fran Kranz, Anna Hutchison, Chris Hemsworth, Jesse Williams, Richard Jenkins, and Bradley Whitford
CITADEL (World Premiere)
Director & Writer: Ciarán Foy
An agoraphobic father teams up with a renegade priest to save his daughter from the clutches of a gang of twisted feral children. Cast: Anuerin Barnard, James Cosmo, and Wumni Mosaku, Jake Wilson, Amy Shiels
GIRLS (World Premiere)
Director & Writer: Lena Dunham
Created by and starring Lena Dunham (Tiny Furniture), the HBO show is a comic look at the assorted humiliations and rare triumphs of a group of girls in their early 20s. Cast: Lena Dunham, Allison Williams, Jemima Kirke, Zosia Mamet, Adam Driver
MARLEY (North American Premiere)
Director: Kevin Macdonald
The definitive documentary on the life, music, and legacy of Bob Marley.
The Oyster Princess (1919) with original live score by Bee vs. Moth (World Premiere)
Director: Ernst Lubitsch, Writers: Hanns Kraly & Ernst Lubitsch
The Oyster Princess is Ernst Lubitsch's tart 1919 silent comedy that parodies the rich and the spoiled. Austin jazz/rock band Bee vs. Moth performs their original score live with the film for the first time.
Small Apartments (World Premiere)
Director: Jonas Åkerlund, Writer: Chris Millis
When Franklin Franklin accidentally kills his landlord, he must hide the body; but, the wisdom of his beloved brother and the quirks of his neighbors, force him on a journey where a fortune awaits him. Cast: Matt Lucas, Billy Crystal, James Caan, Johnny Knoxville, Juno Temple, James Marsden, Dolph Lundgren, Saffron Burrows, Rosie Perez, DJ Qualls
In addition to nine full days of film screenings, SXSW Film will ultimately feature over 100 informative and entertaining panels, workshops, mini-meetings and mentor sessions. Previously announced panels include a Conversation with Cliff Martinez, Drive composer, and The Business of Kevin Smith among others. For details on these confirmed sessions, visit www.sxsw.com/film/talks. The complete list of panels will be announced closer to the event.
Register for a Film, Gold or Platinum Badge today at www.sxsw.com/attend, and join us March 9-17, 2012 for unparalleled access to these energetic panels, exceptional films, exciting parties, the SXSW Trade Show and, of course, the inspirational experience that only SXSW can deliver. Register by January 13 and save up to 20% off the walk-up rate.