Alexander Payne Calls Next Film 'Nebraska' "A Nice Little Comedy"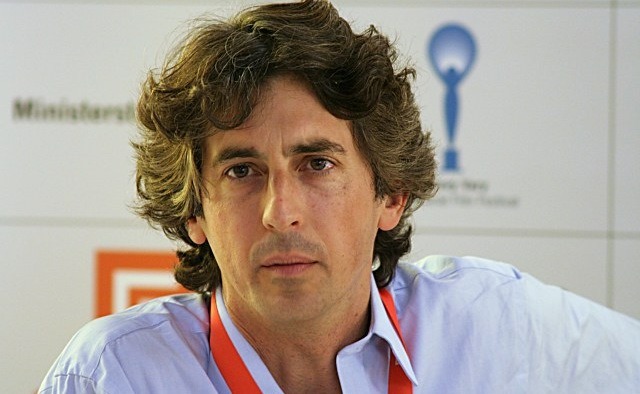 It was seven years between Alexander Payne's films Sideways and The Descendants, but the director has a couple new projects in the works. He probably won't have to wait nearly as long before getting another film off the ground. We know, for one, that he's working on Wilson, an adaptation of Daniel Clowes' comic story.
Before Wilson gets going, however, Payne will likely make a film called Nebraska, about a father and son on a roadtrip to collect contest winnings the father believes to be waiting for him. The development of the movie has taken some time, in part because there was some back and forth with the studio over budget, casting, and shooting the movie in black and white.
The film is still being cast, and since the big deals aren't done Payne won't reveal who he has in mind for the role. (Gene Hackman, Robert Duvall, Jack Nicholson, and Robert Forster have all been rumored, with Forster being the most persistent name so far.) But it isn't even anything specific to Nebraska that is the most interesting thing today — it is how Payne describes his general approach to finding a story.
Speaking to ComingSoon the director said,
I'm always just so damn desperate to find anything that can make a movie. I'm serious. I also get questioned about what statement are you making and what themes are personal to you and I'm always thinking I'm so grateful to have barely found a story that you can make a movie. I'm not eating humble pie. I just want to keep doing it and making movies. This one is not a grand statement and it's not particularly important to me. "The Descendants" wasn't entirely personal to me. I just thought it was make a decent movie and it would be fun to make. I also think about what would be fun to make.
Given that we're at a point where the auteur-oriented approach to looking at film has become so dominant that it isn't even mentioned as a theory, but taken as a given, statements like this from a notable director are refreshing. But is Payne being disingenuous? There are big thematic currents in them whether he looks for them or not.
His films have such a consistent approach to family and aging men, for example, that even if he isn't trying explicitly to make movies about certain subjects, those stories that he sees as suitable for turning into movies end up being ones that bring those subjects and themes forward. Nebraska seems very much like one of those — just read the synopsis of the script that has been floating around for over a year:
Nebraska follows an aging alcoholic father who thinks he's won a million dollar Publisher's Clearing House sweepstakes prize. He is unbowed when his family tries to dissuade him from making the long trip from Montana to Nebraska to cash in his winnings. So his estranged 20-something son—who doesn't believe the ticket is a winner—is forced to go along with him for the ride to keep him out of trouble, providing an opportunity to bond with his father after years of separation.
Payneis pretty low-key talking about Nebraska, though:
It's a father/son road trip from Billings, Montana to Lincoln, Nebraska, but it gets waylaid at a crappy town in central Nebraska where the father grew up and where he has some old scores to settle. It's just a little comedy. It's nothing fancy. Nothing too ambitious. It's a nice little comedy.
I wonder, too, if Payne is dragging his heels a bit getting some things together for Nebraska as the awards prospects for The Descendants have improved over the past two months. Will he have a bit more dealmaking power in the next few weeks as the big awards start to be doled out?