MGM & Fox To Release All 22 James Bond Films In Blu-Ray Box Set; See A Great Trailer For The Massive Release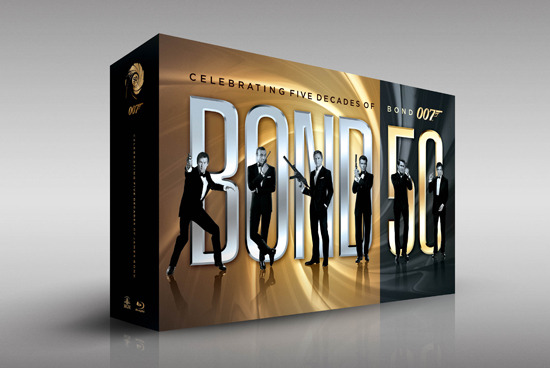 This year will see the release of the new James Bond film, Skyfall, but that's only part of the Bond festivities for 2012. This year is also the 50th anniversary of James Bond on film, and there is no way anyone who is keyed into what's going on with film will be able to ignore that.
Today Bond directors John Glen (For Your Eyes Only, Octopussy, A View to a Kill, The Living Daylights & Licence To Kill), Martin Campbell (GoldenEye, Casino Royale) and Michael Apted (The World Is Not Enough) with special guests Olga Kurylenko (Quantum of Solace) and Caterina Murino (Casino Royale) appeared at on a panel at the Consumer Electronics Show to celebrate Bond.
They announced that, among other things to make Bond fans happy, the entire 22-film series, from Dr. No to Quantum of Solace (not including the non-canon movies Casino Royale '67 and Never Say Never Again) will be released on Blu-ray in one massive box set called Bond 50.
Fox will release the set later this year. It has nine movies previously unavailable in HD, and a reported 130 hours of bonus features, including an unspecified amount of new content. Expect the price to be around $240. More details will come later this year.
Here's a trailer for the box set: