Watch A Brutal Fight Scene In The First Five Minutes Of 'Haywire'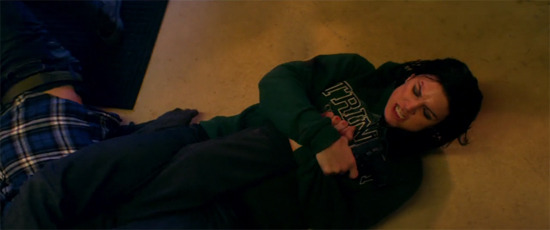 Sadly, this one is for US residents only, because it uses a Hulu embed. Eventually I imagine this will end up on YouTube, but for now everyone outside the States will have to be patient.
One of Steven Soderbergh's last films (he's planning to retire after shooting two more, The Side Effects and Behind the Candelabra), Haywire features MMA star Gina Carano and opens on January 20. You can see the first five minutes of the movie below.
The scene is one that you'll see in much shorter form in various trailers for the film, but this full presentation of a confrontation between Gina Carano and Channing Tatum should really give you a good idea of what sort of fight scenes Haywire has to offer. This fight is serious.
Sure, Gina Carano doesn't come out of this scene looking like the greatest actress you'll see this winter, but I think Haywire will work just fine regardless. And I really like the snippet of music we hear. The score is from David Holmes, who also worked with Steven Soderbergh on Out of Sight and the Ocean's movies. (His Ocean's Twelve soundtrack/score is one I listen to very often.)
Haywire also features Ewan McGregor, Antonio Banderas, Bill Paxton, Michael Douglas and Michael Fassbender.
Mallory Kane is a highly trained operative who works for a government security contractor in the dirtiest, most dangerous corners of the world. After successfully freeing a Chinese journalist held hostage, she is double crossed and left for dead by someone close to her in her own agency. Suddenly the target of skilled assassins who know her every move, Mallory must find the truth in order to stay alive. Using her black-ops military training, she devises an ingenious—and dangerous—trap. But when things go haywire, Mallory realizes she'll be killed in the blink of an eye unless she finds a way to turn the tables on her ruthless adversary.
[Hulu]