Sequel Bits: 'Bridesmaids 2', 'The Fighter 2', 'Narc 2', 'The A-Team 2', 'The Devil Inside 2'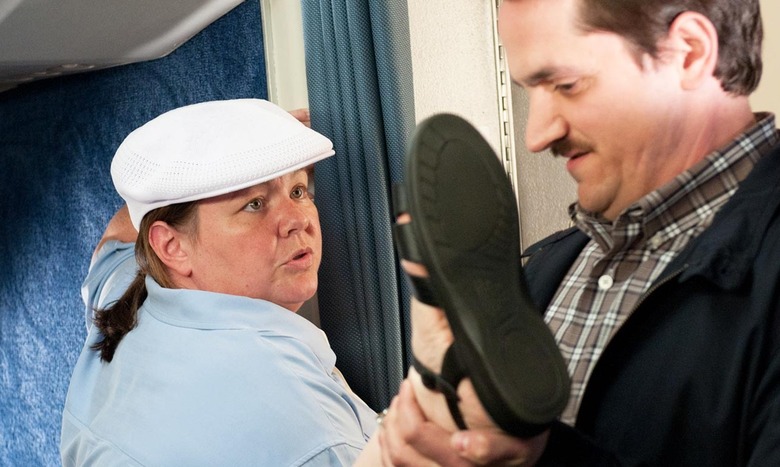 What do Bridesmaids and The Devil Inside have in common? Not a lot, except that both performed even better than expected at the box office, and execs are now eager to get going on terrible-sounding sequels. After the jump:
Melissa McCarthy refuses to do Bridesmaids 2 without Kristen Wiig
Mark Wahlberg reports that The Fighter 2 is looking for a new director
Joe Carnahan discusses the (non) possibility of an A-Team 2, and more interestingly, the possibility of a Narc 2
The Devil Inside exec producer Steven Schneider says he'd "love" to do a sequel
Just to be clear, though, it's the prospect of a Bridesmaids 2 without Wiig that McCarthy's against, not Bridesmaids 2 in general. "I don't know anything about it," she said. "But I know that nobody wants to do it unless it's great. If it is, I will show up wherever those ladies are." Sounds like McCarthy and I are on the same page here. [Film School Rejects]
The pairing of David O. Russell and Mark Wahlberg played out beautifully onscreen in The Fighter, but it looks like the two won't be going back for another round together after all. Despite the fact that Russell has expressed his interest in writing and possibly directing The Fighter 2 in the past, it now appears that Russell won't be involved, perhaps due to rumored tension between the two.
Wahlberg recently told The Playlist that The Fighter 2 is currently waiting on writer Scott Silver to finish his script, as we've previously reported — and that the project will then begin looking for a new helmer. "We got to do that film before I get too old... so maybe in the next year, year and a half," he said. "We have to wait for the script, and then we'll choose a director."
Joe Carnahan's last couple of directorial efforts, Smokin' Aces and The A-Team, haven't exactly been critical hits. But his gritty cop drama Narc is remembered somewhat more fondly — including by Carnahan himelf, apparently. The helmer revealed that he and Narc star Ray Liotta have been talking about doing a follow-up to the 2002 film. Here's a rough translation of an interview he gave to French publication JeuxActu:
I talked to Ray Liotta the other night after Narc and he has described the beginning. If I could make this film for $ 10 million and do what I want, I would sign right away. Creative control is more important to me that having my name in a big production.
Without giving too much away, the first film ends in such a way that there's no obvious path for Carnahan and Liotta to do a sequel, so it'll be interesting to see how they decide to approach it.
As for The A-Team, Carnahan believes there's no demand for a sequel, and he doesn't mind. "I do not think the film has brought enough money. The studio does not want a sequel," he said in French (translation via Google). "Although it was a lot of fun doing this film, I do not want to be tied to sequels and franchises. There are so many other stories I want to tell! The good news about the failure of the film is that it made me do The Grey." [The Film Stage]
Last weekend's The Devil Inside opened to such scathing reviews, both from professional critics and average filmgoers, it's almost easy to miss the fact that on a commercial level, the film was a massive hit. With a weekend gross of $34.5 million, it was the biggest opening ever recorded for the first weekend of January, a figure made all the more impressive by the fact that it cost just $1 million to make. So naturally, the team behind it is already starting, slowly, to think about a sequel.
"It's a little premature," executive producer Steven Schneider told TheWrap when asked about the possibility of a sequel. Not that he hasn't thought about it, though. "Certainly the filmmakers and Lorenzo (di Bonaventura) and I would all love to explore that with the studio and I think we believe that there is absolutely the potential to carry forward our storylines from the original. It would be a rather organic and fun process — and one that would lead to great results," he continued. Given the reactions to the first movie, I'm not sure "great results" are what anyone else expects out of the second one. [Moviefone]