What's The Working Title Of The Live Action 'Star Wars' TV Show?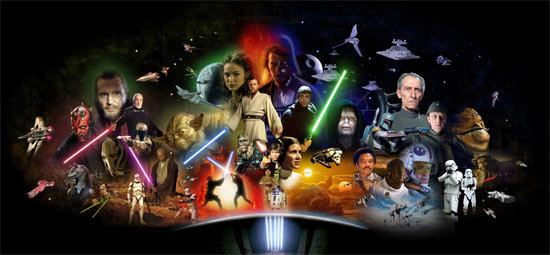 As we know from multiple stories we've ran over the last year, the long-rumored, much-anticipated, live-action Star Wars TV Series is not happening anytime soon. George Lucas himself has sai until technology significantly lowers production costs, there's just no fiscally responsible way for the show to be produced. That doesn't stop fans from asking about it though.
IGN recently spoke to LucasFilm producer Rick McCallum about their upcoming Red Tails and took the opportunity to get some info on the show. While most of what McCallum says has been said in one way or another before, he does make some interesting points, asides and referes to the show by a new working title: Star Wars: Underworld. Does that mean chicks with guns battle vampires and werewolves? Not quite. Watch the video interivew and more after the jump.Thanks to IGN for posting this video. Here it is in full, I'll do some bullet points below.
First up, let's discuss the "working title," Star Wars: Underworld. I sincerely doubt that'll end up being the title of the show and, in the interview, it almost comes off as if it's not anything at all. But, as a working title, it's just a way for LucasFilm employees to not call it "The Live Action Star Wars TV Show"around the office while also describing what it'll eventually be about: the smaller goings on in a galaxy far, far away and how the Empire is undermining the Republic to, eventually, gain control. That kind of seedy, underbelly stuff. McCallum even makes a 1% vs. 99% analogy.
Here are some other points and thoughts from the interview:
While the prequels each cost around $100 million each, the show would have to have a similar production value for about 5% of that, $5 million.
Though Lucas has speculated it might be 3-4 years until technology makes that possible, McCallum makes several jokes that he hopes he's alive when it happens. To be fair though, he might be refering to his health and not the time period. (I kid, Rick, I kid. You look great.)
It was a matter of debate in the past, but McCallum regularly refers to the fact that they do indeed have 50 scripts ready to go and says that each is bigger and more complex than the prequel films. Insert joke here.
He knows people want the show and LucasFilm is just hoping to somehow break even on them, not make a bunch of money. Which doesn't quite jive with...
...the discussion about whether or not network or cable would be the best outlet for the show and the online would not work as a viable outlet.
No matter what you think or how you interpret McCallum's sentiments, it's always nice t get a little update on this so as not forget its potentially amazing nature. What are your thoughts on Star Wars: Underworld?