Blake Lively, Channing Tatum, And Jude Law To Star In Steven Soderbergh's 'The Side Effects'; Megan Ellison To Finance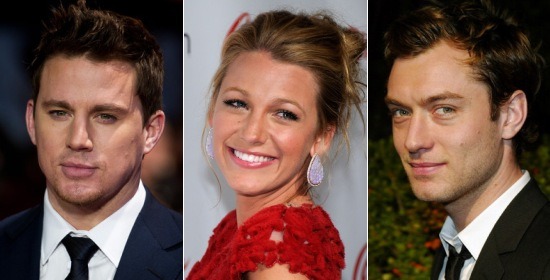 This month's Haywire marks the first of two collaborations between Steven Soderbergh and Channing Tatum we'll be seeing this year, the other one being this summer's Magic Mike, and it seems we'll have another to look forward to next year as well. After toying with the idea of teaming up for Warner Bros.' The Man From U.N.C.L.E. before Soderbergh pulled out, the pair may now be gearing up to reunite on The Side Effects, previously titled Bitter Pill.
Also joining Tatum in the cast will be Blake Lively and Jude Law, the latter of whom recently worked with Soderbergh on Contagion. More details after the jump.
Although Summit looked like the likely home for the project last month, The Playlist now reports that the studio has dropped out and Megan Ellison's Annapurna Pictures will be financing the film instead. Like the actors, Ellison hasn't signed quite yet but is expected to finalize her deal shortly. Ellison's only been in the producing game for a few years, but already has some impressive credits under her belt, including True Grit and the upcoming Cogan's Trade, The Wettest County, The Master, Kathryn Bigelow's Osama bin Laden thriller, and the Tatum-starring Foxcatcher.
I can't say Tatum's really impressed me in anything I've seen so far, although I've heard good things about his performance in A Guide to Recognizing Your Saints. But I'll have plenty of opportunities to change my tune this year, since in addition to Soderbergh's Haywire and Magic Mike, Tatum also has The Vow, 21 Jump Street, and G.I. Joe: Retaliation coming up. I like Lively even less — yes, I've seen The Town, and no, I didn't think she was anything special in it — but between this and Oliver Stone's Savages, she does seem to be landing some interesting roles. Law is currently starring in Sherlock Holmes: A Game of Shadows, and is filming Joe Wright's Anna Karenina.
As for Soderbergh, whether or not he's really retiring (or just going on a sabbatical) in the near future, what's certain is that he's very busy now. He's currently putting the finishing touches on June's Magic Mike, and is scheduled to begin shooting The Side Effects in April — after which point he'll move into the Liberace biopic Behind the Candelabra.
The Side Effects is aiming for a 2013 release.