TV Bits: 'Mad Men' Sets Return Date, Plus: 'Community', 'Glee', 'Fringe', 'Allen Gregory', 'Californication', And More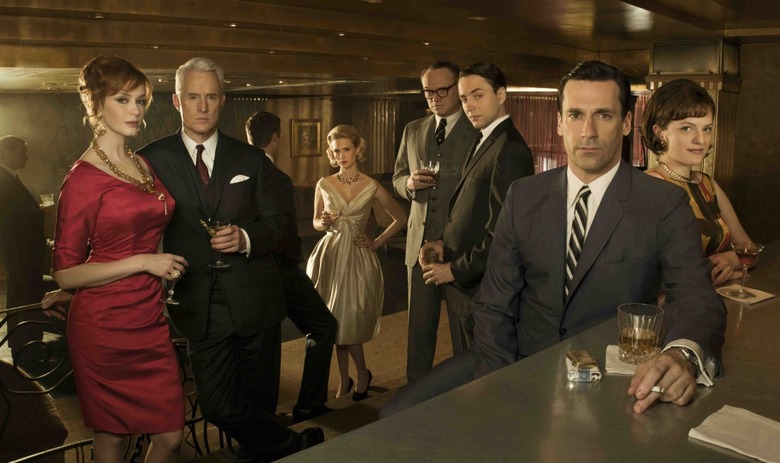 Today's TV Bits is a severely mixed bag, as we get updates on two returning shows and a few other shows that are dead or close to it. After the jump:
NBC confirms that Community will be back in the spring
AMC sets a return date for Mad Men
Showtime releases the season premieres of Shameless and Californication online
Fox cancels Allen Gregory, begins developing new late-night animated block
Fox's Fringe seems likely to get cancelled
Fox decides against Glee spin-off, but devises a plan to keep its biggest stars on the show.
The series' return date has yet to be determined, though it seems unlikely that it'll return to the same 8 PM Thursdays slot it vacated last month. "I don't know if it makes sense to ask it to start off the night again," he said. Greenblatt also wouldn't offer any hints about whether the show might return for a fourth season, saying only that the network would "look at the success of what pilots yield, what the scheduling needs are and make that decision closer to the upfront [in May]." There's reason to be optimistic, as Vulture points out, but for now all fans can do is wait. That, and keep begging anyone with a Nielsen box to actually watch the series whenever it returns. [AV Club, TV Line]
On a less nebulous, more upbeat note, AMC has finally set a return date for Mad Men. Star Jon Hamm let slip during an appearance on Doug Benson's "Doug Loves Movies" podcast that the period drama would return for its fifth season Sunday, March 25, with an episode that marks Hamm's first time in the director's chair. I have nothing more to say about this, other than "freakin' finally!" [TheWrap]
Speaking of season premieres, Showtime has posted the Season 5 premiere of Californication and the Season 2 premiere of Shameless in their entirety online — though as usual, the episodes have been "edited from its original form" for nudity, language, etc. When they originally aired Sunday, Shameless drew 61% more viewers than it did in its series premiere last January, while Californication was down 11% compared to last season's premiere. Watch the (probably not entirely SFW) videos below.
Fox has yet to decide the fates of several of its programs, including Terra Nova and House, but there's one show that needn't wonder anymore. Over the weekend, the network announced the cancellation of Jonah Hill's animated series Allen Gregory, which debuted on the network in October and has suffered from falling ratings for most of its run. [The Huffington Post]
But Fox seems hopeful that they'll fare better with adult-oriented cartoons in the future, as it's also announced the development of a new Adult Swim-esque programming block. The new unit will air Saturdays from 11 PM – 12:30 AM and feature four new animated shows each season starting in January 2013. It'll be complemented by a digital component with 50 original "short-form pieces," which will debut in 2012. Adult Swim's former head of program development, Nick Weidenfeld, and producer Hend Baghdady (Warren The Ape, The Andy Milonakis Show) will head Fox's new division. Head over to Collider to read the full press release.
As for Fringe, one of the other shows we're still waiting to hear about, well, things apparently aren't looking too good. Although Fox president Kevin Reilly called the series "a point of pride," he also admitted that it may not be feasible to keep it on the air beyond its current season. "[I]t's an expensive show," he said. "We lose a lot of money on the show. But with that rating on that night it's almost impossible for us to make money on it. We're not in the business of losing money."
To make matters worse, Reilly confirmed to TV Overmind that a decision would not be made until after the Season 4 finale was written, which suggests that fans may be left with an unsatisfying ending. But for what it's worth, executive producer Jeff Pinkner assures viewers that that won't be the case. "Worst case scenario, if this were the last aired season of Fringe — and as we've said before, there are other outlets where we could continue our stories, be they graphic novels or webisodes — we know what the end of this season is going to be, and it can function as a series finale," he said. [TV Line, EW]
We'll close out TV Bits with some news that may be good or bad or completely neutral, depending on how you feel about Fox's Glee and its various stars. As the show's three lead characters — Rachel (Lea Michele), Finn (Cory Monteith), and Kurt (Chris Colfer) — approach graduation, the question has been where they and the show would go from there, and we now know the answer, kind of.
Fox's Reilly announced over the weekend that although the rumored Glee spin-off is officially dead, they have a "really cool idea" to keep its graduating seniors part of the show, and Michele, Monteith, and Colfer have all confirmed that they will return for Season 4. The fate of some of the other characters remain undecided, however. "
"[C]reatively, we'd want everybody back," said Reilly, but "I've got to look at the contractual situation for all of those." When pressed further, Reilly simply replied, "I don't want to, again, get into details. I'm just trying to whet your appetite. But I think it's going to be a good thing for the show.... It's cool. It's different." [Huffington Post]