George Clooney Will Direct And Star In 'The Monuments Men,' About Art Historians Rescuing Works From Nazis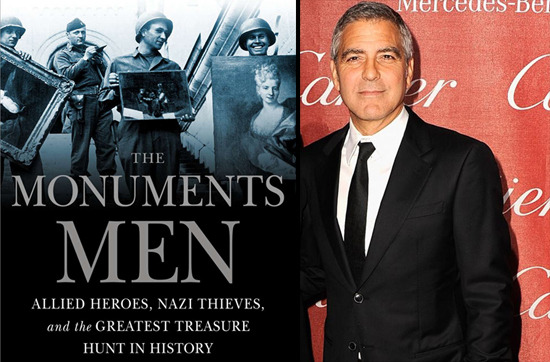 George Clooney and his writing and producing partner Grant Heslov have an eye for slightly unconventional takes on classic film genres, and for Clooney's next directorial effort they're turning to an old standard: the World War II action film. But, in keeping with their general apporach to finding and telling stories, this one is just a bit different.The Monuments Men is based on a true story about "art historians who landed at Normandy to rescue art looted by Adolf Hitler."The LA Times reports that Clooney announced the project over the weekend, and that he and Heslov will adapt the book of the same title by Robert Edsel. Clooney will direct and co-star with Sony financing and distributing. This movie is his first priority, he said, so that Smothers Brothers biopic will have to wait a bit.The Monument Men follows eleven civilian art experts and historians, with no combat training, who faced live battlefield conditions. At least one of them falls for Rose Valland, "a member of the French resistance who diligently tracked the location of (and sometimes hid on her own) stolen art." More info on the real men who inspired the story can be found at the Monuments Men website.
Here's a recap of the book:
At the same time Adolf Hitler was attempting to take over the western world, his armies were methodically seeking and hoarding the finest art treasures in Europe. The Fuehrer had begun cataloguing the art he planned to collect as well as the art he would destroy: "degenerate" works he despised. In a race against time, behind enemy lines, often unarmed, a special force of American and British museum directors, curators, art historians, and others, called the Momuments Men, risked their lives scouring Europe to prevent the destruction of thousands of years of culture. Focusing on the eleven-month period between D-Day and V-E Day, this fascinating account follows six Monuments Men and their impossible mission to save the world's great art from the Nazis.