'The Road' Producers Buy 'The Counselor,' A Script By Cormac McCarthy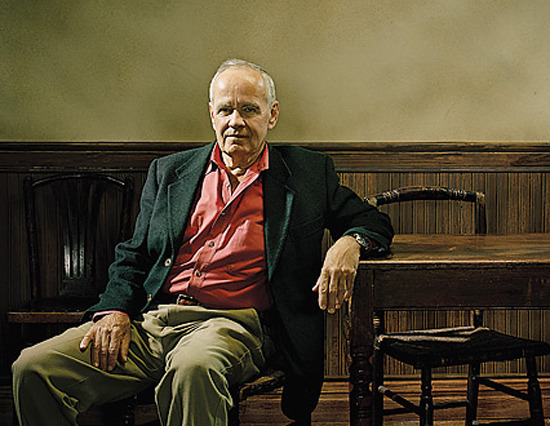 Good news today for fans of author Cormac McCarthy (The Road, Blood Meridian, All the Pretty Horses). He has written and sold a screenplay called The Counselor. It is contemporary and set in the Southwest, and said to be reminiscent of his novel No Country For Old Men. Much of the discussion of this new script calls it McCarthy's first spec script (that is, a script written on the author's own initiative) but that isn't quite true, as No Country was originally written as a script before McCarthy turned it into a novel.
More details on the new script are below.
The Counselor, says Deadline, features "a respected lawyer who thinks he can dip a toe in to the drug business without getting sucked down. It is a bad decision and he tries his best to survive it and get out of a desperate situation." No wonder the comparisons to No Country For Old Men are already flying.
Nick Wechsler, Steve Schwartz, and Paula Mae Schwartz, who together produced the film adaptation of McCarthy's novel The Road, bought the script. There is no director or cast attached yet; the project is just starting to go out to financiers.
Steve Schwartz told Deadline,
Since McCarthy himself wrote the script, we get his own muscular prose directly, with its sexual obsessions. It's a masculine world into which, unusually, two women intrude to play leading roles. McCarthy's wit and humor in the dialogue make the nightmare even scarier. This may be one of McCarthy's most disturbing and powerful works.
That's a pretty neat thing — that this will have a couple of strong female roles. I'm very much looking forward to hearing more about The Counselor. So let's see — how long will it take for people to clamor for the Coen Brothers to direct this one?
http://www.deadline.com/2012/01/pulitzer-prize-winning-author-cormac-mccarthy-sells-his-first-spec-script/