'ATM' Trailer: Two Guys, A Girl And A Killer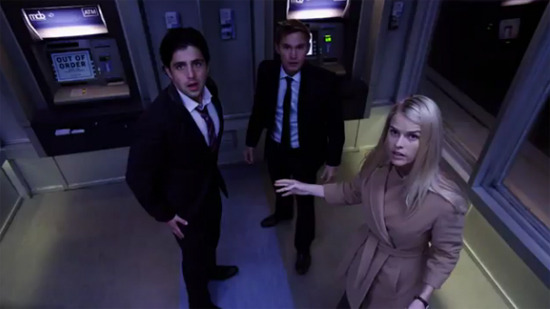 Chris Sparling wrote the 'man in a coffin' thriller Buried, and he followed that script up with another tightly confined thriller, ATM. Sparling's script was directed by first-timer David Brooks, and the resulting thriller finds three people (Brian Geraghty, Alice Eve and Josh Peck) trapped inside an ATM in the middle of a parking lot thanks to the menacing presence of a murderous figure just outside.
The first trailer has just been released, and while it doesn't look like anything truly outstanding, ATM does look like the sort of movie I'd watch just to see where the story goes. Check it out below.
So how do you get an hour or so worth of material out of three people trapped in that little room? (I assume that the lead-in takes a good twenty minutes, so this isn't a full 90 minutes inside the ATM booth.) And what's the story with the crazy guy? Like I said, I'm curious enough to watch this just to find out what's going on.
ATM will be released on VOD and digital platforms (iTunes, Amazon Streaming, XBox ZUNE, PS3 Video Unlimited) on March 2nd before opening in theaters on April 6th.. [IMDB via HeyUGuys]