Alfred Molina And Frances O'Connor Join Jessica Biel In 'Emanuel And The Truth About Fishes'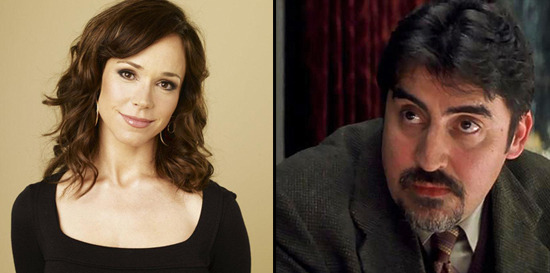 I'm gradually becoming more interested in Francesca Gregorini's new film Emanuel and the Truth About Fishes. The film was once set to star Gregorini's Tanner Hall star Rooney Mara — that film was made a bit before Mara was a big name — and now features Kaya Scodelario as a girl who gets involved in a very strange family situation.
The film just added four cast members: Alfred Molina, Frances O'Connor (A.I.), Jimmi Simpson (Zodiac), and Aneurin Barnard (Ironclad). They join Scodelario and Jessica Biel in the film about a woman who doesn't realize (or doesn't accept) that her baby is actually only a doll.
Variety gives a good description of the story: Emanuel (Scodelario) is "a troubled 17-year-old girl who babysits her new neighbor Linda's "baby," which is actually a very life-like doll. She goes along with the delusion while befriending Linda (Biel), who happens to be the spitting image of Emanuel's late mother."
Alfred Molina will be Emanuel's father; Frances O'Connor will be her stepmother; Jimmi Simpson will be one of her co-workers; and Aneurin Barnard her love interest.
I still can't decide if this is a cute/strange gimmicky story or something that has a lot more to offer, but it's way too early to call. The conceit is unusual enough that it has my attention, though. Let's hope it turns out better than the last weird indie to feature Biel, David O. Russell's stalled Nailed.
Gregorini described the film to Variety in roundabout terms:
'Lars and the Real Girl' is an easy comparison, but it veers away from that tonally. I consider it a psychological drama-thriller, with comedic elements. ... It deals with death, salvation and redemption, as well as the lengths we'll go to to deny our own mortality. It's about the secrets we tell ourselves and keep from each other, and how intricate those lies are.