The Alamo Drafthouse Expands Into Suburban Washington, DC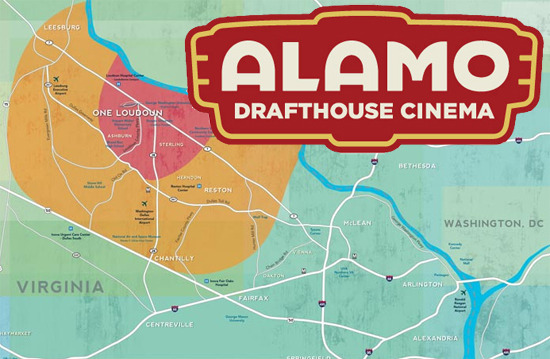 Germain was just wondering earlier this week about a possible Los Angeles location for the expanding Alamo Drafthouse Cinema, which operates well-loved movie theaters in central Texas.
Turns out the next big Alamo Drafthouse opening will be on the outskirts of Washington, DC, in Ashburn, VA. Starting in Spring 2012 the retail developers involved in a planned community area called One Loudoun will begin construction on a 34,000 sq. foot cinema space, with plans for the Alamo Drafthouse to open doors on-site in Spring 2013.
Read the press release below.
One Loudoun Holdings, LLC, a joint venture of Miller and Smith and NORTH AMERICA SEKISUI HOUSE, LLC (NASH) and its retail development partner, Potomac Development Group, LLC, announce today that Alamo Drafthouse Cinema will open a new location at One Loudoun in Loudoun County, Virginia. The 34,000 square foot Alamo Drafthouse Cinema will be the first in the Washington, DC market area. Construction will commence in spring 2012 with a projected opening in spring 2013.
Alamo Drafthouse Cinema combines in-theater dining, drinks, films and events, all under one roof. The theaters are world renowned for their unique programming events and high exhibition standards, earning accolades like "Best Theater Ever" by Time magazine and "the coolest theater in the world" by Wired. The theater is the brainchild of Tim and Karrie League who dreamed of opening a neighborhood theater that would provide the community with a great place to come together for entertainment as well as a second home to all movie fans.
"This type of mixed-entertainment venue is rare in Loudoun County and we're thrilled to bring such a unique experience to the One Loudoun community," said Bill May, vice president of Miller and Smith. The Alamo Drafthouse Cinema announcement comes on the heels of the One Loudoun Ribbon Cutting Ceremony and successful opening event for the Welcome Center. More than 1,000 people interested in living at or opening a business in One Loudoun attended the event.
"This is the first of many retail and restaurant deals we are putting together to create a new downtown at One Loudoun, a place where people can enjoy a variety of quality shopping, dining and entertainment options," said Tom Maskey, principal of Potomac Development Group and development manager for the downtown portion of One Loudoun.
For more information about retail leasing at One Loudoun, please contact Potomac Development Group at 571.299.4970 or visit www.potomacdevgrp.com. Potomac Development Group will be available at the ICSC 2012 Mid-Atlantic Conference & Deal Making event scheduled for February 21-22, 2012 at the Gaylord National Resort & Convention Center at National Harbor, MD.
For more information about One Loudoun, please visit www.oneloudoun.com or call the One Loudoun Welcome Center at 703.724.1111. Follow One Loudoun on Facebook and Twitter.