'The Wettest County' Release Date Pushed Back Again, To Labor Day Weekend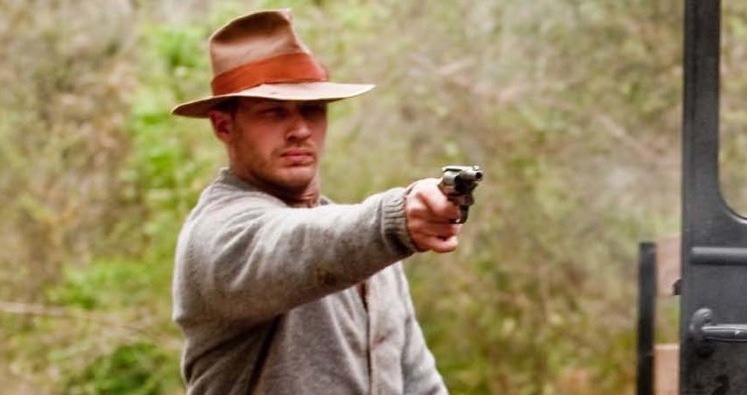 A year ago, we thought we'd see John Hillcoat's The Wettest County by the end of 2011. By the end of last year, we had a new release date: April 20. Now it seems we'll have to wait even longer, as The Weinstein Co. has pushed the opening back again, this time to August 31. It's disappointing news, not only because we're eager to see the film but also because it's a date that suggests the studio isn't giving it much of a chance. Labor Day weekend is generally one of the slowest of any given year, and it's usually a bad sign for a movie when the studio dumps it into that slot.
Based on "mostly true" events, Hillcoat's historical drama centers around a group of brothers (Tom Hardy, Shia LaBeouf, and Jason Clarke) who get into the bootlegging business in Prohibition-era Virginia. Jessica Chastain, Mia Wasikowska, Guy Pearce, and Gary Oldman also star. More after the jump.
But not everyone's buying the official explanations, particularly because the company sorely mishandled Hillcoat's last film for them, The Road. The Cormac McCarthy adaptation was delayed several times before finally receiving a limited release with little promotion in November 2009.
There's also the fact that no matter hard The Weinstein Co. tries to spin it, Labor Day weekend is widely considered an undesirable release date. For comparison, last year's Labor Day slate consisted of Apollo 18, Shark Night 3D, A Good Old Fashioned Orgy, and The Debt. Not all of those were total bombs, but none were huge hits, either. Then again, it's always possible The Wettest County could prove the exception to the rule, so let's hope for the best.
The August 31 opening pits Wettest County against the horror film The Possession and the thriller 7500.