Liam Hemsworth And Dwayne Johnson Could Star In Dito Montiel's 'Empire State'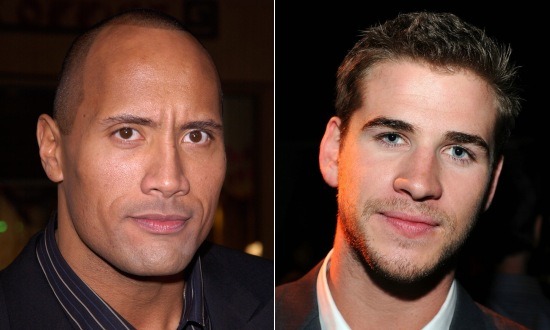 Two of the most in-demand action stars working right now may be on the verge of teaming up. Liam Hemsworth and Dwayne "The Rock" Johnson are close to signing on for Dito Montiel's Empire State, with the former on the verge of closing a deal and the latter in negotiations. The film sounds more or less like what you might expect from a collaboration between Hemsworth and Johnson: It's an indie heist movie involving an armored car robbery. More details after the jump.
Empire State is just the latest addition to Hemsworth's crowded upcoming slate, which also includes The Expendables 2, Timeless, and of course, The Hunger Games. His last onscreen appearance was in the 2010 Nicholas Sparks adaptation The Last Song, opposite Miley Cyrus. Johnson most recently starred in this summer's Fast Five, and has Journey 2: The Mysterious Island and G.I. Joe: Retaliation lined up for this year. He's currently filming Snitch with Susan Sarandon and Jon Bernthal.
Montiel's directorial career got off to a solid start with 2006's A Guide to Recognizing Your Saints, which was based on his own memoir of the same title. However, his two films since then, 2009's Fighting and last year's The Son of No One, have been poorly received, which doesn't bode well for his next movie. But who knows — maybe Empire State will be the one to turn his luck around. With a screenplay from Mazer and Hemsworth and Johnson in the leads, this could end up being a fun little thriller.
[Source: Deadline]