'All Things Fall Apart' Trailer – Remember That Time 50 Cent Made A Cancer Football Movie?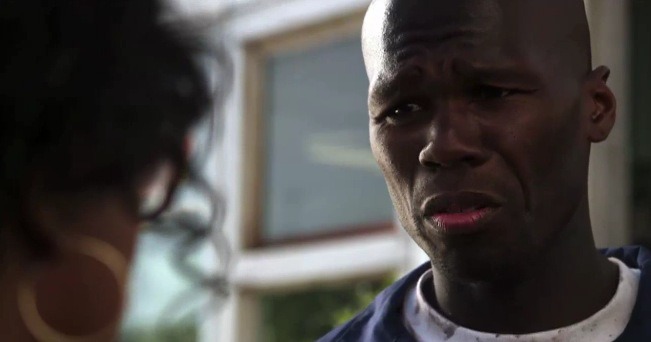 Over a year and a half ago, the world got its first glimpse at a shockingly emaciated Curtis "50 Cent" Jackson, who'd dropped nearly 60 pounds to play the lead role in a project called All Things Fall Apart. (Originally called just Things Fall Apart.) When the finished feature finally comes to DVD and Blu-ray next month, we'll finally get to see what all the trouble was for.
Directed by Mario Van Peebles from a screenplay by Jackson and Brian A. Miller, the drama stars Jackson as a college football player who's on the verge of joining the NFL when he's sticken with cancer. We got an early peek at the film in the form of a sales trailer that hit around its little-noticed Miami Film Festival premiere last spring, but now that Image Entertainment is on board we finally have an official trailer as well. Take a look after the jump.
[via The Hollywood Reporter]
Well, the new trailer is slightly better than the unintentional hilarity that was the last video, but that's not saying much. It doesn't help that this is the kind of premise that'd have to be handled with masterful nuance to keep from becoming utterly, unbearably sappy, and it's clear that that's not what's happened here.
As for Jackson's dramatic chops, it's tough to get a good idea of his range from this trailer since he doesn't do a whole lot other than wear ridiculous-looking dreadlocks, drop a bunch of weight, and listen to people talk at him. Mostly, it just looks like he's trying really hard. Perhaps he'll get a better chance to show off his talents in one of the five other films he has planned for this year.
All Things Fall Apart will be released on home video February 14.
Synopsis:
Deon is a college running back with a fierce combination of blazing speed and stunning power. At the pinnacle of his college football career and gearing up to start a successful NFL one, life unexpectedly takes a turn and what was once easy and natural becomes unattainable. With his football career in serious jeopardy, Deon begins to realize a startling truth he is not the man he thought he was. Equipped with this new found information, Deon sets out to better himself by reuniting his family and picking up the pieces of his life.
Discuss: 50 is like half a second away from making the Dawson crying face in the header image, isn't he?