Amanda Seyfried And Taylor Swift Offered Tom Hooper's 'Les Misérables' [Updated]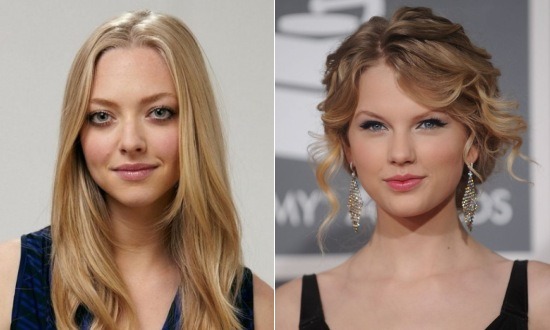 [Update: Deadline now reports that Seyfried is in final negotiations for the role.]
Tom Hooper's already star-studded cast for Les Misérables is about to expand by two more, as news breaks that Amanda Seyfried and Taylor Swift have been offered the roles of Cosette and Éponine, respectively. If Seyfried and Swift accept, they'll also be joining Hugh Jackman, Russell Crowe, Helena Bonham Carter, Sacha Baron Cohen, Aaron Tveit, and Eddie Redmayne in the musical, which is due out next winter. Read more after the jump.
Although Seyfried's last big-screen musical, Mamma Mia!, was something of a mess, her performance in it suggests she's a perfect pick to play Cosette. Not only does she have the "sweet and innocent" thing down pat in that film, she has ample opportunity to show off her fantastic, opera-trained voice. Seeing as Hooper reportedly expects the stars to do their own singing live on camera, as opposed to using voice doubles or recording the vocals in a studio, those musical skills should prove especially useful for this production.
I'm much less excited about Swift's casting, however. While there's no doubt that this Grammy Award-winning musician can sing, she has very little acting experience; Valentine's Day, an episode of CSI, and the upcoming The Lorax are the only acting credits on her resume so far. Then again, she managed to beat out veteran thespians Lea Michele, Scarlett Johansson, and Evan Rachel Wood for the part, so perhaps Hooper just knows something we don't.
Les Misérables is aiming for a March start, with a scheduled release date of December 7, 2012.
Here's Seyfried singing "Lay All Your Love On Me" with Dominic Cooper in Mamma Mia!:
And here's Swift's acting debut on CSI: