'Return' Trailer – Linda Cardellini Is A Woman On The Verge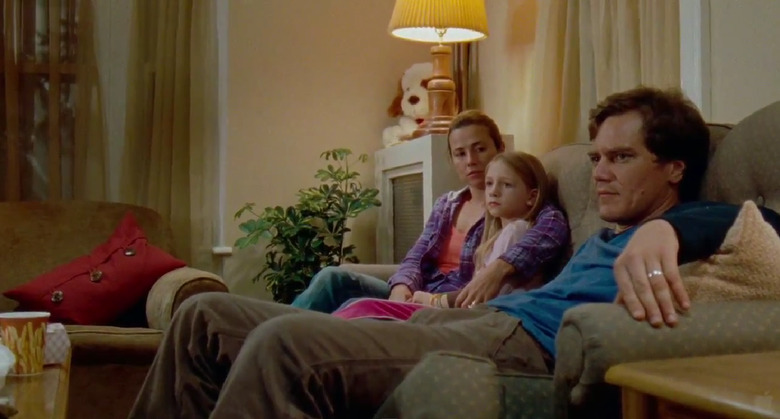 It's never quite been clear to me why Linda Cardellini isn't a bigger star. Cardellini's talents have been apparent ever since she starred in Paul Feig's Freaks & Geeks back in 1999, and over the years she's shown remarkable range in projects ranging from the deadly somber (Brokeback Mountain) to the utterly silly (Legally Blonde, the Scooby-Doo films).
I don't know whether her next movie, Return, will do much to raise her profile, but if it doesn't it certainly looks like another to add to the "Reasons Linda Cardellini Should Be More Famous" pile. Cardellini plays a war vet who's initially excited to return home to her husband (Michael Shannon) and kids after a long deployment, but struggles to fit back into a world that's clearly moved on without her. Critics praised Cardellini's riveting turn after the film's debut at Cannes last year, and even in this 85-second trailer, it's easy to see why. Watch the video after the jump.
[via Film School Rejects]
Cardellini's performance doesn't seem to be a showy one, but it looks all the more powerful for that. Even when she's doing nothing more dramatic than glancing across the room, she manages to convey the unbearably tense air of a woman about to explode. Return seems to be a fairly low-key little drama overall, but I think it'll be worth checking out for Cardellini alone.
Written and directed by Liza Johnson, Return hits theaters February 10, and will be available on iTunes starting February 28.
Synopsis:
When Kelli (Linda Cardellini, Freaks & Geeks, Brokeback Mountain) returns home from war, she expected to slowly but surely settle back into her life with her husband (Michael Shannon, Boardwalk Empire) and kids in the small town she grew up in. But she gradually realizes that the life she left behind is no longer there waiting for her. Depicting Kelli's struggle to find her place in a life she no longer recognizes, Linda Cardellini delivers a tour de force performance, leading an all-star cast that also includes John Slattery (Mad Men). Proudly presented by DaDa Films and Focus World, a division of Focus Features, dedicated to seeking out the best in international, independent, and documentary cinema.