Rumor: Updated 'Dark Knight Rises' Audio Mix Makes Bane Easier To Understand [Updated]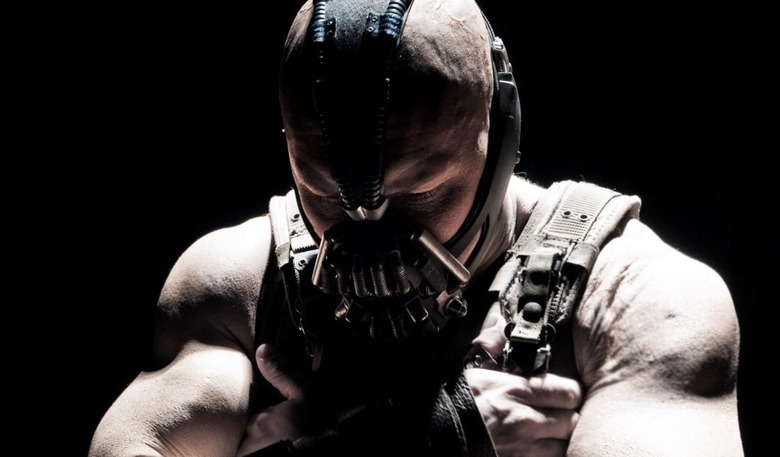 [Update: After conversations with Warner Bros. and IMAX, Collider's source story about this update was taken down and replaced with an apology. Original story follows, though it is now moot.]
When The Dark Knight Rises prologue hit theaters in front of Mission: Impossible – Ghost Protocol last month, the clip got a lot of buzz, but not all of it was exactly the kind Warner Bros. was hoping for. Although fan reaction was generally positive, the general consensus was that the scene was awesome in spite of the fact that no one could understand exactly what the heck Bane (Tom Hardy) was saying behind his mask. Seeing as Bane is the film's major villain, that reaction was understandably making the studio pretty nervous.
At the time, director Christopher Nolan said that he didn't plan to make to rework the sound mix, though he'd be open to slight alterations. We're now hearing that Nolan has indeed updated the mix, reducing the ambient noise to make the character more intelligible. More details after the jump.
A friend of mine who is an IMAX projectionist told me they received a new soundtrack for 'The Dark Knight Rises' prologue. He said it's now a combo soundtrack with 'Mission: Impossible – Ghost Protocol,' but the cool thing about this is that they've cleaned up the dialogue. They've gone in and lowered the background noise of the plane and other things, thus making Bane's dialogue clearer and more understandable. He asked some people after they left the movie if they could understand Bane and they all said they had no issue understanding him, and were excited for the movie.
The source later clarified that Bane's dialogue is "40-50%" easier to understand in the updated mix, since the background noise has been reduced. Assuming the report is true, it sounds like Nolan and Warner Bros. have reached a good compromise that allows Nolan to keep the scene more or less as he intended it, while soothing worried execs and frustrated fans who just want to know what Bane's talking about.
It's not clear when exactly the change took effect, as Indiewire's Oliver Lyttleton notes that as of two days ago, the sound hadn't been fixed in his local IMAX theater. I haven't heard (or talked with anyone who's heard) the new mix, so I can't speak to whether it's been changed in my theater. If you've heard the new Dark Knight Rises prologue audio, hit the comments and let us know how it compares.