POTD: Director Rian Johnson And His Time Machine From 'Looper'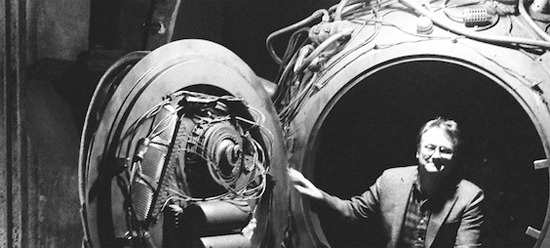 It didn't take much deliberation at all for me to crown Rian Johnson's third film Looper as my most anticipated movie of 2012. After making Brick and The Brothers Bloom, Johnson has penned and directed a sci-fi thriller in which time travel is used as an assassination tool in the not-too-distant future.
A few people have seen the film in incomplete form, and written very positive things about it. But most of us know very little. We know the cast includes Joseph Gordon-Levitt, Bruce Willis and Emily Blunt, and we've seen a single image of Willis firing a rifle. Unless you read all the reviews that came out of one early screening, that's probably all you know.
Now, as a New Year's present, Johnson has offered up a photo of himself sitting in the film's giant iron womb of a time machine. The image should give you the idea that this is no simple, slick thriller, but hopefully something with a more convincing approach. Check the image in full below.
Johnson posted this pic to the Looper tumblr, which has been the source of many a teasing glimpse at the film. Looper opens on September 28, which seems very, very far away.