'Upside Down' Trailer: A Wild Sci-Fi Romance To Kick Off The New Year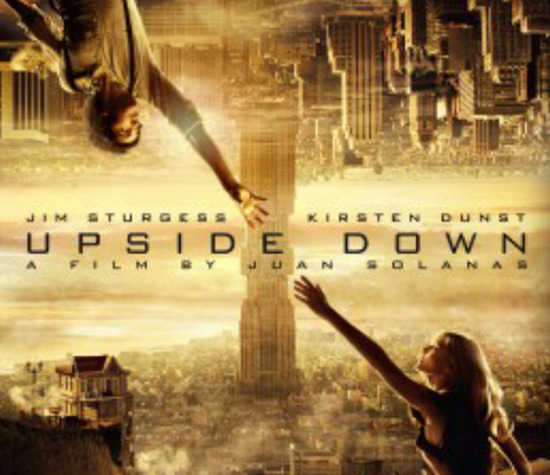 You may not remember the first time we reported on the sci-fi romance Upside Down, because it was over two years ago, in fall 2009. The film stars Kirsten Dunst and Jim Sturgess as lovers of a sort. They inhabit two different worlds, visualized in the film as inverted images of one another, and where the world 'up top' is far more well to do than the one 'down below.'
The film has some striking visuals — there is some Alex Proyas, some Andrew Niccol, and even some Wong Kar Wai in there. It's a great trailer to kick off the new year, and you can check it out below.
Juan Diego Solanas directs. We've seen an on-set video and a couple teaser posters, but even those are over a year old now. Sadly, while we've got this teaser, there is no info on possible US distribution.
Here's a two year-old synopsis that seems to hold true:
Look up towards the sky and rub your eyes because you won't believe what you see: cities, forests, and oceans with their own inverted gravity, only an arm's length away, yet completely unreachable. Take a leap over to this alternate reality, two worlds – one above, one below? facing each other, and you'll land in the extraordinary world of Upside Down.
Adam is a seemingly ordinary guy in a very extraordinary universe. He lives humbly trying to make ends meet, but his romantic spirit holds on to the memory of a girl he met once upon a time from another world, an inverted affluent world with its own gravity, directly above but beyond reach... a girl named Eve. Their childhood flirtation becomes an impossible love. But when he catches a glimpse of grown?up Eve on television, nothing will get in the way of getting her back... Not even the law or science!
[Canal+, via Bleeding Cool]