'Just Go With It' Most Popular Redbox Rental Of 2011, 'Fast Five' Tops Most Pirated List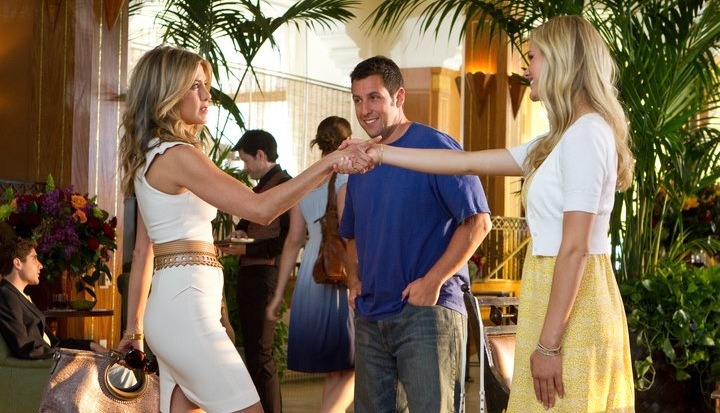 By now you've probably seen dozens of critics' best-of-2011 lists (including ours!), and noticed some amount of overlap on films like Hugo, Drive, and Tree of Life. But there's more than one way to gauge a movie's success, and when it comes to what general audiences are actually watching, a whole different set of titles come out on top.
According to a report just released by Redbox, the Adam Sandler vehicle Just Go With It was the most rented title at its bright red kiosks in 2011, ahead of several other comedies including No Strings Attached, Rango, and The Dilemma. Meanwhile, Fast Five leads the list of the most pirated movies of the year, followed by The Hangover Part II, Thor, and Source Code. Read both lists after the jump.
1. Just Go With It
2. No Strings Attached
3. Rango
4. The Dilemma
5. Due Date
6. Despicable Me
7. The Tourist
8. The Lincoln Lawyer
9. The Green Hornet
10. I Am Number Four
Before we start picking apart these selections, there are a few caveats to consider, as The LA Times points out. First, movies that hit Redbox in the year had an advantage over movies released later in the year for the simple reason that they had more time to get rented. Second, some studios have deals that allow movies to hit kiosks the same day they go on sale, which also gives certain films an edge.
The latter issue, at least, was probably less of a factor in TorrentFreak's (via Cinema Blend) list of the most pirated movies of 2011:
1. Fast Five
2. The Hangover Part II
3. Thor
4. Source Code
5. I Am Number Four
6. Sucker Punch
7. 127 Hours
8. Rango
9. The King's Speech
10. Harry Potter and the Deathly Hallows Part II
TorrentFreak notes that the average number of downloads for the top 10 movies of 2011 is lower than that of the top 10 of 2010, even though the number of active BitTorrent users has remained the same — whether because of more and better legal options for watching movies, or just because downloads were just spread out over a wider variety of titles.
It's not really fair to compare the two lists, so I won't try. For what it's worth, though, Rango and I Am Number Four are the only two titles to be among Redbox's most-rented and BitTorrent's most-downloaded, and the former actually made it onto a bunch of critics' lists as well. Who knew 2011 was secretly the year of Rango?