'The Broken Tower' Teaser Trailer: James Franco Directs, Writes And Stars In A Poet's Life Story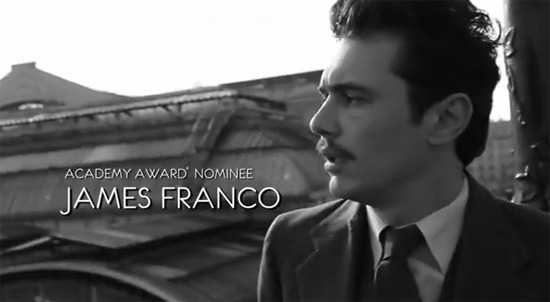 You have to give James Franco credit for trying a great many different things, from graduate studies to acting to writing and directing short films and transitioning up to features. Franco has plans to adapt a couple of the more challenging authors around, Cormac McCarthy (Blood Meridian) and William Faulkner (As I Lay Dying), in the immediate future.
But first there is The Broken Tower, a film about poet Hart Crane that Franco wrote, directed and stars in, with Michael Shannon and Dave Franco also playing roles. The film premiered at the LA Film Festival to mixed reviews, and now that the first teaser trailer has arrived, you'll probably be able to guess some of the reasons for the shaky reception.
I can see Franco's interest in Crane coming through just via that teaser, but the way it is cut also makes the film look really overwrought. The film is based on Paul L. Mariani's biography of Crane, and I'm not familiar enough with Crane's work or the biography to predict whether this is a well-aimed account of the poet's life based only on this footage. But I'll watch the film anyway, just because I'm hopeful that Franco can pull it off.
The Broken Tower is available on VOD and digital platforms now via Focus World, and will be on DVD on March 27. [The Playlist]