'Battleship' Japanese Trailer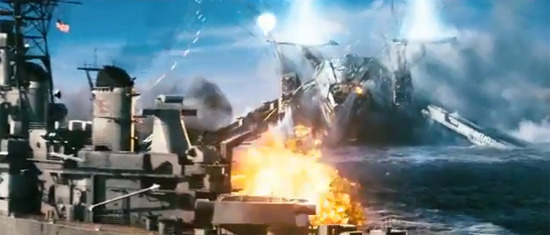 If you're on the fence about Universal's Battleship, that being Peter Berg's Michael Bay-style 'humans versus aliens' movie which will hit next year, this Japanese trailer probably won't help make up your mind. It has a few small new bits of footage, yes, and also a bit more footage of Japanese actor Tadanobu Asano. But otherwise it's still the same big, goofy battle movie. Check it out below.
Sure, 'big goofy battle movie' might not be a bad thing, especially in this case. And I still suspect that Peter Berg might have a bit more up his sleeve than trailers have suggested so far.
In this particular case I think the Japanese trailer voiceover actually adds to the film's appeal — makes Battleship seem like an earthbound companion piece ot the recent big Space Battleship Yamato movie that hit Japan last year.
Battleship opens on May 18 2012.
Peter Berg (Hancock) produces and directs Battleship, an epic-scaled action-adventure that unfolds across the seas, in the skies and over land as our planet fights for survival against a superior force. Inspired by Hasbro's classic naval combat game, Battleship stars Taylor Kitsch as Lt. Alex Hopper, a Naval officer assigned to the USS John Paul Jones; Brooklyn Decker as Sam Shane, a physical therapist and Hopper's fiancee; Alexander Skarsgard as Hopper's older brother, Stone, Commanding Officer of the USS Sampson; Rihanna as Petty Officer Raikes, Hopper's crewmate and a weapons specialist on the USS John Paul Jones; and international superstar Liam Neeson as Hopper and Stone's superior (and Sam's father), Admiral Shane.