First Look: Channing Tatum, Alex Pettyfer And Matthew McConaughey Strip Down For Steven Soderbergh's 'Magic Mike'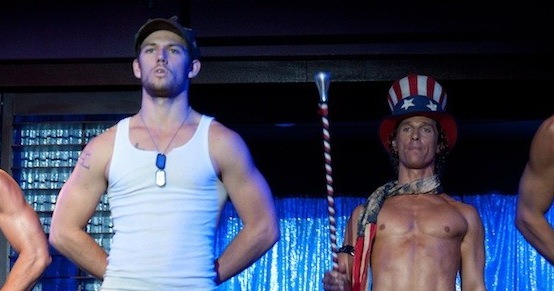 Love him or hate him, you'll be seeing a lot of Channing Tatum in 2012: Shooting at things in Steven Soderbergh's Haywire, romancing Rachel McAdams in The Vow, going to the prom with Jonah Hill in 21 Jump Street, fighting Cobra in G.I. Joe Retaliation, and possibly getting killed by Steve Carell in Bennett Miller's Foxcatcher. But if I'm being honest, the one I'm really curious about is Soderbergh's Magic Mike, which stars Tatum as an experienced stripper who takes a newbie (Alex Pettyfer) under his wing.
It's not just the idea of near-naked men parading around, I promise — I'm intrigued by the unusual premise and the interesting cast, and am hoping to see a bit of Soderbergh's sly sense of humor. But yeah, the promise of buff, shirtless dudes helps too.
After the jump, check out the first image, featuring Tatum, Pettyfer, and Joe Manganiello in military-themed costumes, while Matthew McConaughey, who plays the owner of the club, takes charge as a shirtless Uncle Sam. More details after the jump.
[via Moviefone]
Yes, the actors are pretty covered up for a group of male strippers, but what did you expect? It's all about the art of the tease, after all. The marketing folks can't give everything away for free this early on.
Though Soderbergh's been making noises about retiring in the not-too-distant future, he's showing no signs of slowing down just yet. Magic Mike is the second of two movies the filmmaker has scheduled for next year, the other being January's Haywire. Soderbergh will then go on to the Scott Z. Burns-penned Bitter Pill and HBO's Liberace biopic. (Reportedly, that'll be his last movie.)
Also starring Matt Bomer, Kevin Nash, Gabriel Iglesias, Olivia Munn, Riley Keough, Betsy Brandt, Wendi McLendon-Covey, and Cody Horn, Magic Mike opens June 29, 2012 — pitting it against that other film featuring Tatum in military gear, G.I. Joe: Retaliation. The script for Magic Mike comes from Reid Carolin, who based it on Tatum's real-life experiences as a young stripper.