'Game Change' Trailer – Julianne Moore's Sarah Palin Impersonation Gives Tina Fey's A Run For Its Money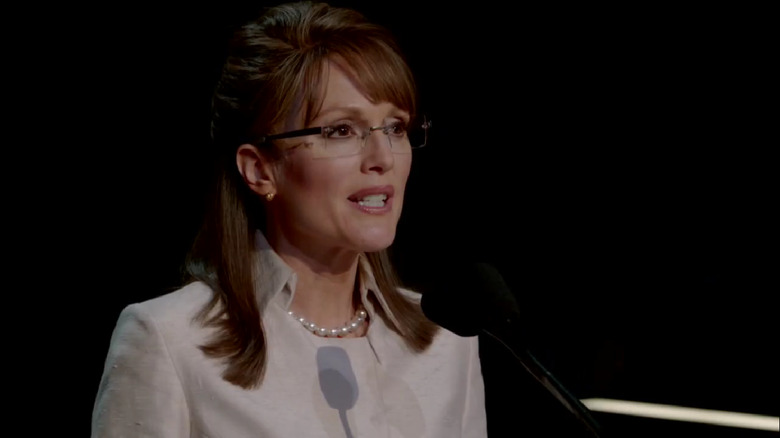 Though the actual presidential elections are still eleven months away, if you've been paying even casual attention to the news you'll know the Republican fight for the nomination is already speeding along. What better time, then, to look back and remember the high drama of the last time we all went through this as a nation?
HBO has just released the first trailer for Jay Roach's Game Change, based on John Heilemann and Mark Halperin's bestselling chronicle of the 2008 presidential elections. Though the book covers both the Republican and Democrat sides of the race, Roach's film narrows its focus to John McCain (Ed Harris), Sarah Palin (Julianne Moore), and their bid for office. Woody Harrelson, Sarah Paulson, and Ron Livingston also star. Watch the trailer after the jump.
Thanks to some early publicity stills, we've already known for months that Harris and Moore were capable of looking the parts they'd been cast in, but this trailer proves they've got the voices and mannerisms down pat as well. Moore's impersonation in particular is almost eerie in its accuracy. I felt some serious deja vu when she announced, "I will be honored to accept your nomination for vice president of the United States."
Game Change reunites Roach with screenwriter Danny Strong, who previously penned Roach's Recount. That film, a fictionalized account of the 2000 presidential election and that whole "hanging chad" debacle, earned Outstanding Directing and Outstanding Made for TV Movie Emmys for Roach and a writing nomination for Strong.
If you haven't read the book, I recommend it highly even if political tomes don't tend to be your thing, and even though, yes, reality has already spoiled the ending of the tale. McCain and Palin may have offered some of the most surprising moments of the 2008 race, but there's plenty of batshit craziness that went on in all the other camps as well. (Ahem, John Edwards.) And hey, there's no time like the present to pick up some reading material all but guaranteed to spark tense political conversations with relatives over Christmas dinner.
Game Change will air on HBO in March 2012.